Board members, volunteers and other supporters of Boys & Girls Clubs of Greater Scottsdale took to the fairway at Troon Country Club on Monday, May 16, at the annual Scottsdale Invitational, presented by Ironwood Investment Counsel, LLC.
The event, which ultimately raised nearly $40,000 for Boys and Girls Clubs of Greater Scottsdale, was co-chaired by Jeff Shiffra of Ironwood Investment Counsel and Robert Winter of Mutual of Omaha.
The day kicked off with breakfast, followed by a round of golf on one of Scottsdale's premier private golf courses. After after the final putts had been made, the invitational concluded with a lunch reception, silent auction and an awards presentation. The foursome from General Dynamics, led by Boys & Girls Clubs of Greater Scottsdale Board of Governors member Craig Hadges, as well as Anthony Parke, Bobby Crosta and Matt Jones, won with a score of 55.
All proceeds from the event will directly support youth development programs for children and teens served by the Boys & Girls Clubs of Greater Scottsdale.
Since 1954, the organization has provided more than 100,000 Northeast Valley youth with a positive, supervised environment in which to explore the power of their potential. The Club offers more than 100 youth development programs emphasizing five core areas: the arts; character & leadership development; education & career development; health & life skills; and sports, fitness & recreation.
For more information about the organization, visit bgcs.org.
Like Haute Living Phoenix? Join our Facebook page or follow us on Twitter @HauteLivingAZ. Want Haute Living Phoenix delivered to your inbox once a week? Sign up for our newsletter.
North-Scottsdale-Bob-and-Judy-Frost-Edi-and-Jerry-Remaklus-Boys-Girls-Clubs-Scottsdale-Golf-Invitational
North Scottsdale's Bob and Judy Frost and Edi and Jerry Remaklus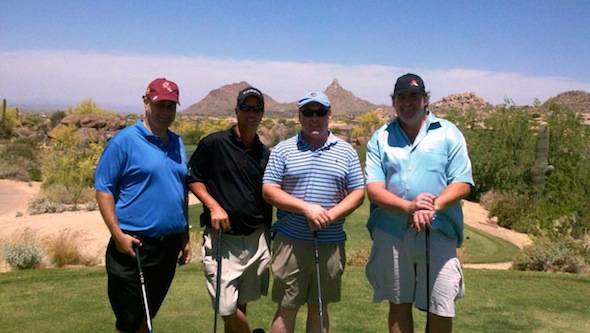 Chairman of the Board David Cohen, Board of Governor Allen Thompson, Board of Director Frank Gorman and Todd Stevens
Chairman of the Board David Cohen, Board of Governor Allen Thompson, Board of Director Frank Gorman and Todd Stevens
Event Co Chair - Robert Winter's foursome (Robert is far right)
The Foursome of Event Co-Chair Robert Winter (far right)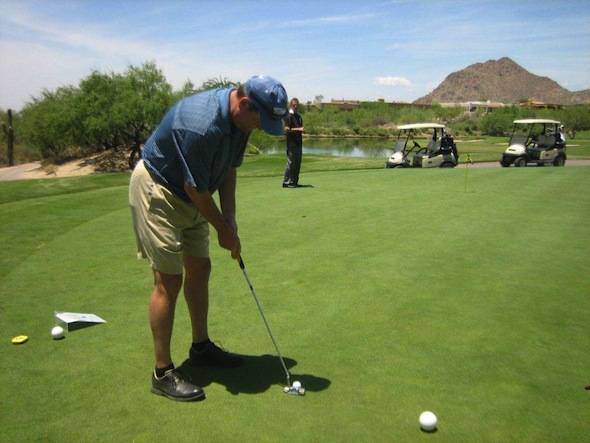 Incoming Chairman of the Board, Rick Baker attempts the putting contest
Incoming Chairman of the Board Rick Baker attempts the putting contest