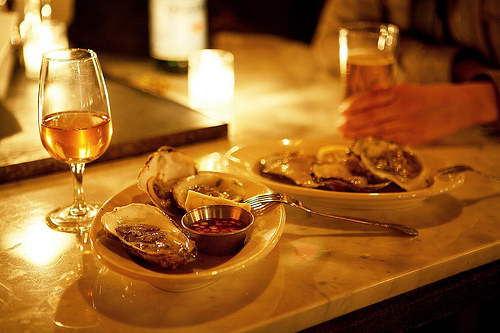 The Lower East Side has become characterized by a circus-like atmosphere on the weekends—bars spilling out into the street most nights, and the perpetual thump and thud of a not-too-distant bass. But for those who prefer a more curated environment that caters to a friendlier ambiance, be introduced to The Ten Bells wine and tapas bar on Broome St. between Orchard and Ludlow. Conspicuously hidden, the outside is dark and unadorned with any symbol of a functioning business there, however, once inside you enter upon a magnificent U-shaped bar of white marble, while surrounding you are strung up black chalkboards listing the numerous white, red, sparkling, and rose wines available to please any discerning palate. Wine prices vary by selection, the average bottle costing about $50, with more affordable and expensive choices.
Ten Bells also has a variety of tapas to order from, including shrimp nachos, chorizo picante, and an assortment of local, organic cheeses that rotates depending upon availability. There is also daily happy hour until 7 p.m. in which oysters are only $1!
If you are looking for a more intimate, comfortable atmosphere to share a drink with someone, sidle up to the candle-lit bar at Ten Bells and be welcomed with a glass of wine.
The Ten Bells is located at 247 Broome St.
Like Haute Living New York? Join our Facebook page. Want Haute Living New York delivered to your in box once a week? Sign up for our newsletter.