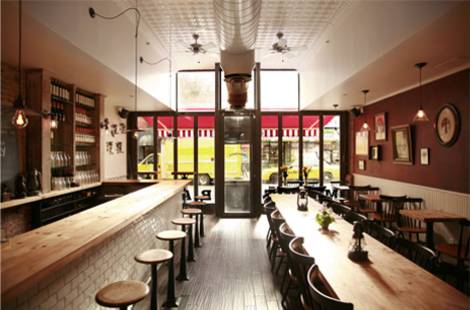 On a typical Friday or Saturday night I travel down to the Lower East Side. The scene you will find there truly embodies Manhattan night life. Streets are packed with young adults running around from bar to bar and restaurants are filled to maximum capacity. The thing about New York is that you could linger around the same area every weekend, and still be oblivious to numerous locations even if they're directly staring at you. In particular, after spending the night at commonly frequented Los Feliz, my friends suggested we go to a place called The Meatball Shop.
In the very early hours of this Sunday morning, the Meatball Shop was crammed with a long communal table, a bar and some smaller tables. The majority of the crowd seemed to be enjoying red wine, along with various meatballs of different flavors. As I soon learned, you can order meatballs made with many different sauces in many different styles such as sliders, heroes or smash. You can also compose your own dishes and deserts however you'd like, and are given dry erase markers to mark your selections off the menu. This was one of the most enjoyable and laid back late-night ambiances I have ever experienced.
The Meatball Shop has been recognized as a New York City Haute-spot by Martha Stewart's Radio Blog, ABC News: Neighborhood Eats, and Food & Wine magazine. The next time you are on the Lower East Side and looking for a great hang out spot, I highly suggest checking out the Meatball Shop. Although this was only my first time there, it definitely won't be my last.
The Meatball Shop is located on 84 Stanton Street
Like Haute Living New York? Join our Facebook page or follow us on Twitter @HauteLivingNY. Want Haute Living New York delivered to your in box once a week? Sign up for our newsletter.