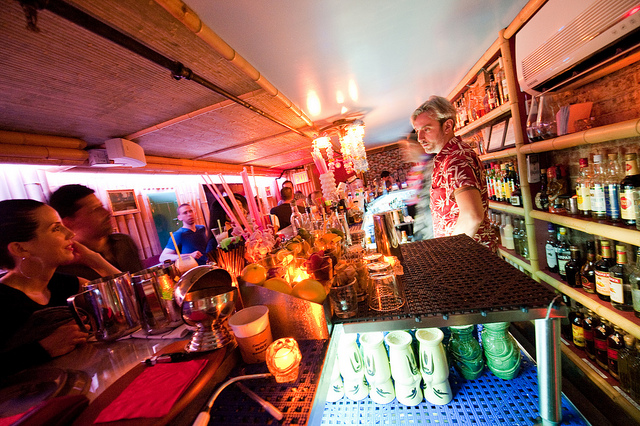 There is a common conception of the current cocktail bar as a setting involving descriptors like posh, chic, and elegant. While these words may very well define many of the city's finest lounges, it certainly does not capture them all. Enter: Painkiller. Wholeheartedly dedicated to preserving an all but bygone of the New York nightlife scene, the infamously kitschy tiki lounge. The bar itself is nothing short of a bona fide tiki bar, complete with extensive bamboo paneling, tropical-themed paintings, even the bartenders wear Hawaiian shirts, but it's the dedication and care to their signature drinks that separates Painkiller from being simply a downtown novelty. Featuring all the staples of an authentic beachfront bar, like Mai Tais, Daiquiris, and a dangerously potent selection of Zombie Punches (limit one per guest!), Painkiller lives up to its name as a place where drinks are designed to be tasty, refreshing, and, most of all, strong enough for you to make friends with anyone there.
That is the true mission of Painkiller, to pair the fraternal ethos of the tiki bar with the concept of an upscale New York lounge, checking the stuffiness and pomp at the door, and allowing guests a bit of escapist pleasure. If you are looking for truly delicious, artfully crafted cocktails, and want to relax and let loose at the same time, Painkiller might be the prescription for you.
Painkiller is located at 49 Essex St. (btw. Hester and Grand St.)
Like Haute Living New York? Join our Facebook page or follow us on Twitter @HauteLivingNY. Want Haute Living New York delivered to your in box once a week? Sign up for our newsletter.