Studio 54 inside the MGM Grand was an explosive visual and auditory experience on New Year's Eve for the launch of DJ Loczi's Electric Dream, recurring every Friday. The already excited crowd went wild as the venue turned dark and Loczi took to the turntables set against a massive LED screen. Launching his set with Black Eyed-Peas' "I Got a Feeling," the energy among party-goers was insane as the end of 2010 neared. No one knew what lay ahead for this dreamlike party as musicians began surrounding the crowd. Heads turned to find live musicians jamming in beat with Loczi's electric spins.
Loczi was joined by master remixer David Alexander on the keys, celebrity musician Christopher Wight on the drums and vocals, famed guitarist Joy Basu and Emmy Award-winning animator Mark Butler.
Party-goers reveled in the alternate universe created and controlled by Loczi as they were taken on sensory overload. The amazing graphics exploded on the LED screen in perfect rhythm to Loczi's beats as the colors and patterns blurred the line between fantasy and reality. The elaborately costumed Studio 54 dancers performed seductive numbers throughout the night, bringing out the sexy side among New Year's Eve partiers.
Loczi started the journey through the past as the rave-like atmosphere felt reminiscent of the original Studio 54 in New York City, including a scantily clad dancer descending to the stage in the famed Studio 54 moon. This imaginative trance ushered in 2011 as club-goers screamed the countdown and cheered at the stroke of midnight when confetti and balloons dropped from the ceiling. The party continued well after the clock struck twelve when incredible wall-climbers appeared from nowhere and performed amazing acrobatics, causing jaws to drop. As the morning hours grew later, Loczi became a figment of the imagination controlling the dreams and reality of every partier inside Studio 54.
Like Haute Living Las Vegas? Join our Facebook page. Want Haute Living Las Vegas delivered to your in box once a week? Sign up for our newsletter.
DJ Loczi's Electric Dream New Year's Eve Countdown, Las Vegas, Dec. 31, 2010
DJ Loczi's Electric Dream New Year's Eve countdown at Studio 54.
Christopher Wight on drums at Electric Dream, Studio 54, Dec. 31, 2010
Christopher Wight on drums at Electric Dream at Studio 54.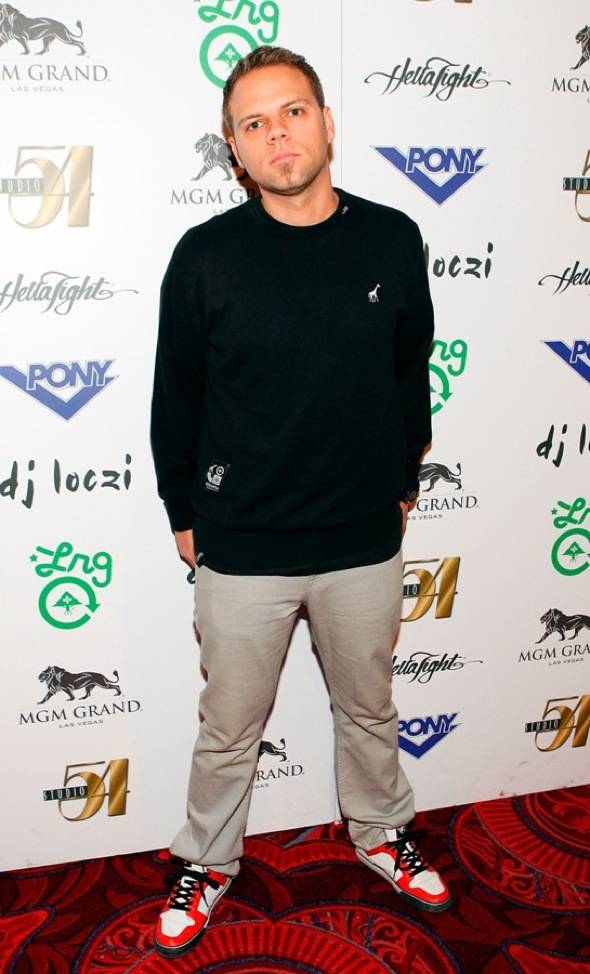 DJ Loczi on red carpet at Studio 54 for Electric Dream, Dec. 31, 2010
DJ Loczi on the red carpet at Studio 54 for Electric Dream.
DJ Loczi's Electric Dream at Studio 54, Las Vegas, Dec. 31, 2010
DJ Loczi's Electric Dream at Studio 54
DJ Loczi's Electric Dream at Studio 54, Las Vegas, Dec. 31, 2010 (2)
DJ Loczi's Electric Dream at Studio 54