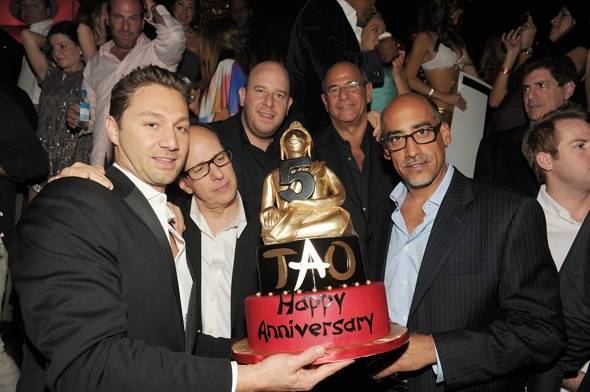 Celebs made their way to Las Vegas to help the famed Tao restaurant and nightclub at the Venetian celebrate five years of success. The party started early on Friday at Lavo at the Palazzo when "Brother's & Sisters" actress Sarah Jane Morris along with her husband Ned Bower from the band Rooney enjoyed dinner and their first vacation away from their son, who was born earlier this year.
Also dining at the Italian eatery was Kelly Bensimon of "The Real Housewives of New York," who enjoyed mojitos and the ever popular Kobe meatball. Comedian David Spade dined at Tao before his show at the Venetian and stopped by Lavo later in the night to say hello to the Tao Group partners. Christina Milian headed straight to the nightclub at Lavo, where she danced on the banquette with two girlfriends.
The main event was Saturday as notable names flocked to Tao to celebrate the anniversary and the night kicked off with breaking news of a celebrity engagement! Fans clamored for a glimpse of "Dancing With the Stars" favorite Karina Smirnoff, who shimmered in a sequin Marc Bouwer sheath that the designer tailor-made for her specifically for her weekend in Vegas with girlfriends. Smirnoff finally revealed the secret that she's been keeping when she flashed the bling on her left hand to a cheering crowd — she's engaged! 

"I said thank you before I said yes," Smirnoff said of the moment beau Brad Penny, star pitcher of the St. Louis Cardinals, got down on bended knee and asked her to be his wife. "He planned it very well and this is actually the first time I'm even talking about it." The blushing bride-to-be admitted she hasn't started thinking about wedding plans, but there's one thing she's sure of: "I'm going to keep Smirnoff as my last name." And although Penny couldn't make it to celebrate the night's festivities, he sent his bride to be a token of his love in the form of an Everlon Knot Collection diamond necklace that he had delivered to her inside Tao's signature fortune cookie dessert.
The party was a dual occasion for some celebrating their birthdays early, with Jack Osbourne, who will turn 25 on Nov. 8 and Brittny Gastineau, who turns 28 on Nov. 11 both blowing out candles. Osbourne was joined by Sarah McNeilly while Gastineau gathered with her mom Lisa and a group of girlfriends.
Notables spotted dining at Tao before hitting the club included Olympian Michael Phelps, Ryan Eggold of "90210," David Spade, Ashley Hamilton, who appeared on season 9 of "Dancing with the Stars," Sean Stewart and Jurnee Smollett from the new TV show "The Defenders." Rhys Wakefield, the Australian actor best known for his role in the long running TV series "Home and Away," was also on hand, as was Cody Longo, who appeared in the remake of "Fame" and Adam Rose from the movie "Up In The Air." Former White Sox MVP Frank Thomas was spotted with the girls of BelleVoxx, the pop trio he manages.
Kelly Bensimon, who lunched at Dos Caminos, and Christina Milian also joined in night two of the celebration while Brandi Glanville was spotted hanging with friends Ashley Hamilton and Sean Stewart and dancing with a group of girlfriends on the catwalk.
Many of the celebs on hand congratulated Smirnoff as they celebrated her engagement and Tao's anniversary upstairs in the packed nightclub, where models in body paint and a contortionist act welcomed guests at the door and dancers took the main stage to keep the high energy flowing.   "I am happy for Karina and wish her the best!" Bensimon said. Osbourne joked, "She should get a prenup! I'm definitely going to get one when I get married."
The crescendo of the night came when the Tao Group partners were presented with a human cake and a celebration cake congratulating them on five years of success. Bottle after bottle of Champagne was delivered via zip line to the tables on the dance floor, while performers twisted in cages and around poles on the center catwalk. As always, DJ Vice provided an amazing soundtrack for the night, keeping the party going well into the wee hours of the morning.
Over at Lavo, Erik Estrada dined with his wife and kids, enjoying spaghetti and meatballs, sea bass and more. Hall of Fame wide receiver Jerry Rice was spotted dining at Lavo, as was Frank Thomas.
Like Haute Living Las Vegas? Join our Facebook page. Want Haute Living Las Vegas delivered to your in box once a week? Sign up for our newsletter.
105701086DT116_Tao_Las_Vega
Brandi Glanville (L) and Ashley Hamilton
105701086DT089_Tao_Las_Vega
Kelly Bensimon and Karina Smirnoff
105701086DT068_Tao_Las_Vega
Christina Milian
105701086DT052_Tao_Las_Vega
Jurnee Smollett
105701086DT094_Tao_Las_Vega
Jack Osbourne (L) and Sarah McNeilly
105701086DT037_Tao_Las_Vega
Ryan Eggold
105701086DT124_Tao_Las_Vega
Sarah Jane Morris and Ned Brower
105701086DT001_Tao_Las_Vega
Karina Smirnoff
105701086DT103_Tao_Las_Vega
Brittny Gastineau and Lisa Gastineau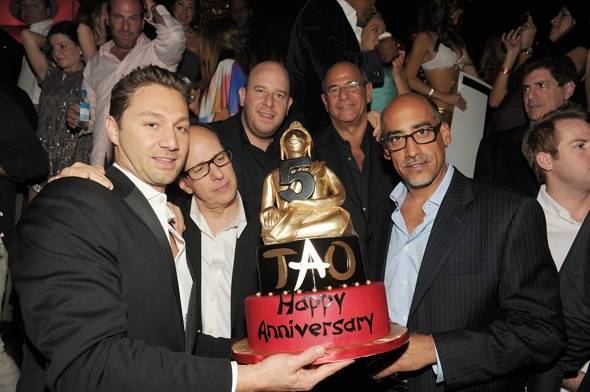 105701086DT122_Tao_Las_Vega
Jason Strauss, Rich Wolf, Noah Tepperberg, Marc Packer and Louis Abin celebrate the fifth anniversary party of Tao Nightclub.
105701086DT014_Tao_Las_Vega
Karina Smirnoff
105701086DT115_Tao_Las_Vega
Christina Milian and Karina Smirnoff
105701086DT034_Tao_Las_Vega
Kelly Bensimon