The 5th Annual Jaden's Ladder Fairway Affair of Atlanta kicked off with a celebrity cocktail party on Friday night.  Special guests gathered at the Buckhead estate of real estate mogul Lee Najjar for a VIP cocktail reception and silent auction. 
I had seen pictures of this grand estate and heard all about it, but nothing compares to seeing the beauty in person. The brilliant chandeliers reflect light throughout the main entrance way and as soon as you walk in the grand stairway greets you.
Throughout the evening, guests mingled, nibbled, sipped and bid on some of the great items put out for the silent auction. Former Atlanta Brave and current Chicago White Sox Andruw Jones and his wife Nicole are very involved in the cause. She looked amazing in her black dress and leopard Loubouitins and people could not stop fussing over her jewelry line, Honesty jewelry. It was a great group of people, all immaculately dressed to the nines, including Justin and Kelly Anthony (of 10 Degrees South), Justin Epstein,   Atlanta Falcons Coy Wire and Brian Finneran, Steve Harvey, Dallas Austin and Kenny Burns.
Kenny took me out to view the pool and I was mesmerized by the view. Below, was the long pool and Jacuzzi surround by other wings of the house. Justin Epstein said to Lee "I think I am going to sell my condo and move in with you." Lee, good heartedly laughed. "I wouldn't even know you are here," he said.
Probably true. Kenny Burns remarked that he would be having some great parties by the pool when the sun season comes back. Apparently, Vin Diesel, rented the mansion from Lee during his stay in Atlanta filming the latest Fast and Furious. We can only imagine what kind of wrap parties went on here.
But more importantly, the first evening was a success for Jaden's Ladder. Names were filling up the silent auction sheets on items such as autographed and framed pictures of Eminem, Justin Bieber and Michael Jordon.
If you are not familiar, Jaden's Ladder is a non profit organization that assists survivors of domestic violence. The cause and the work done by this non-profit, founded by Oneda Bobbet is extraordinary, hence, celebrities flock to lend their helping hand.
Saturday evening the party continued (actually it officially kicked off) with the gala hosted by Andruw and Nicole Jones and Mason Murer Fine Art Gallery. Celebrities  that came out to support Jaden's Ladder on Saturday included Kevin Willis, Charles Oakley, Warrick Dunn (a personal favorite of mine) , Jermaine Dupree, Johnta Austin and Atlanta Brave Brian McCann.
The Fourth Annual Fairway Affair came to an end after the golf tournament at Heritage Country Club on Sunday morning. To learn more about Jaden's Ladder and to see how you can help with the cause, visit jadensladder.org.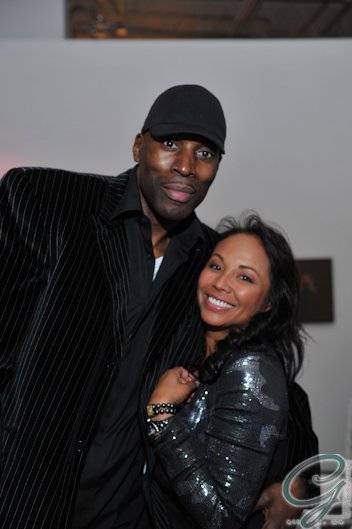 Kevin WIlliis and Jaden's Ladder FOunder Oneida Bobbit
Kevin Willis and Jaden's Ladder Founder Oneta Bobbett
4132052_1
View of the pool at Buckhead Estate
Jermaine Dupree at DJ booth
Jermaine Dupree at the DJ Booth
warrick dunn with grey goose models
Warrick Dunn with Grey Goose Models at the gala
suchita valadama
Oneta Bobbett, Atlana Falcon Ovie Mughelli and Fox 5 Suchita Vadlamani
Subscribe to discover the best kept secrets in your city