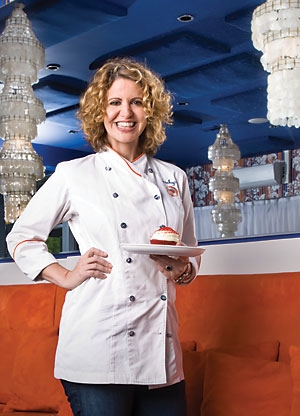 Our Haute 100 list details the accomplishments of the most influential people in each of our markets—Miami, New York, Los Angeles, and San Francisco. These people continue to make moves, so rather than waiting for the next Haute 100 issue to come out, we thought we'd provide you with regular updates on those Haute 100 members who are making headlines. Here at Haute Living we love sophisticated food, so James Beard Foundation award-winner Michelle Bernstein makes our list again!
Michelle Bernstein
Category: Originators
Company: Michy's, Sra. Martinez
Industry: Restaurant
What Made Her Haute: She began her career as a professional ballerina, but after just one class in nutrition, she tossed her slippers and hit the kitchen where she found her true calling. This Miami native is celebrated for her innovative dishes, which are spiced with her unique brand of Latin flair. Her vibrant personality and divine cuisine put her on the national map and earned her the prestigious James Beard Foundation award for Best Chef: South in 2007 for her work at her signature restaurant Michy's. She is the author of Cuisine a Latina and has co-hosted "The Melting Pot" on the Food Network. Last year, she opened a second establishment in Miami, Sra. Martinez, where she puts her signature Latin spin on traditional Spanish tapas. The establishment, located in a former post office in the Design District, was named one of the best new restaurants in 2009 by Esquire. She also operates Michelle Bernstein at the Omphoy Ocean Resort in Palm Beach.
What Makes Her Haute Now: Bernstein is once again honored for her cooking through her participation with Common Threads. The organization aims to teach low-income children how to cook balanced meals for themselves. Common Threads' Miami benefit, World Festival Miami, will include a noteworthy cooking team including Bernstein, Jeff McInnis, Sam Gorenstein, Kris Wessel, John Critchley and Mark Zeitouni.
Bernstein's restaurant the Omphoy is constantly making waves, and foodies have recently cited the comeback of deviled eggs. Luckily, the chef serves them on the terrace bar of the restaurant along with other tapas-style treats. Bernstein is also a newly inducted member of the Macy's Culinary Council and recently signed copies of her cookbook, "Cuisine a Latina," at Dadeland Mall.
Like Haute Living South Florida? Join our Facebook page. Want Haute Living South Florida delivered to your in box once a week? Sign up for our newsletter.
Subscribe to discover the best kept secrets in your city