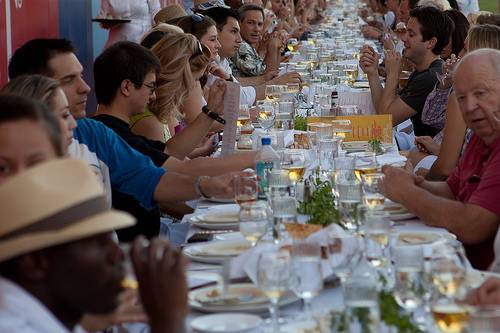 One of the coolest dinner parties in Las Vegas comes to the El Cortez Walkway in Downtown Las Vegas this weekend. Just imagine 150 people getting together for a dinner cooked by a top chef using locally purveyed foods in a setting perhaps never used for a dinner with part of the proceeds going to charity and you start to understand Project Dinner Table. The fourth installment on Saturday, Aug. 7, starts with a social hour at the Emergency Arts Building at 7 p.m., followed by a six-course meal prepared by executive chef Jeff Braun of the Mirage in the walkway that bridges Las Vegas Boulevard with the Sixth Street entrance to El Cortez.
This Saturday's dinner at the El Cortez showcases one of the longest continuously running downtown hotel and casinos in Las Vegas. The property recently underwent a multi-million dollar renovation.
In June, I went to the third installment of Project Dinner Table under the lights at Cashman Field, home of the Las Vegas 51s. After winding through the underbelly of the stadium, I ended up on the field where happy hour was taking place. Chef Michael Napolitano, the owner and chef for Renaissance Catering, served up appetizers such as 48-Hour Sous Vide beef on a skewer, a Honey Lager Quail Hollow Farm egg shooter and mini Ball Park franks with homemade ketchup. By the time we were led to the long table curved around the outfield I'd made several new friends.
Leaving hungry was not an option. The six-course dinner started with a chilled radish gazpacho soup, an interesting variation on the summertime ritual, paired with Michelob Ultra Cactus Lime. Then came a California Family Farms grape tomato salad with a Beach Bum Blonde Ale. The Quail Hollow Farms mosaic salad featured tomatoes, watermelon and avocado with a black garlic vinaigrette paired and then came the two cheese beet ravioli paired with Gordon Biersch Sommer Brau. With barely any room left in my stomach came the Smoked Pork Two Ways, grilled pork tenderloin and pork belly under a smokey glass served with Kirin, followed by the grilled flat iron steak with California Family Farms vegetables served with Gordon Biersch Marzen. All of the courses were served family style so you had more excuses to talk to your neighbors.
I'm not sure who had room left for dessert, but there were China Ranch coconut date balls, pink lemon curd tarts, Mochi ice cream and California Family Farms Rainier and bing cherry Pop Tarts with a black pepper icing.
Great conversation, a little baseball, poetry readings, money raised for a great cause and new friends made the evening one to the remember.
Remaining Project Dinner Table events for the year are scheduled for Saturday, Sept. 11, with special guest chefs from MGM Grand; Saturday, Oct. 16, at Gilcrease Orchard with Chef Mark Sandoval from Postrio; and Sunday, Nov. 14, with Chef Roy Ellamar from Bellagio's Sensi.
Based on a philanthropic passion, Project Dinner Table selects a local charity to be honored at each dinner and a donation will be presented to the charity on behalf of our guests, the chef and sponsors. The El Cortez dinner will make a donation to support the Nevada Cancer Institute.
Tickets are $125 per person and include dinner, entertainment, gift bags, philanthropy as well as all cocktails and coffee. For tickets, visit Project Dinner Table's Web site. But hurry; the last dinner sold out.
Subscribe to discover the best kept secrets in your city