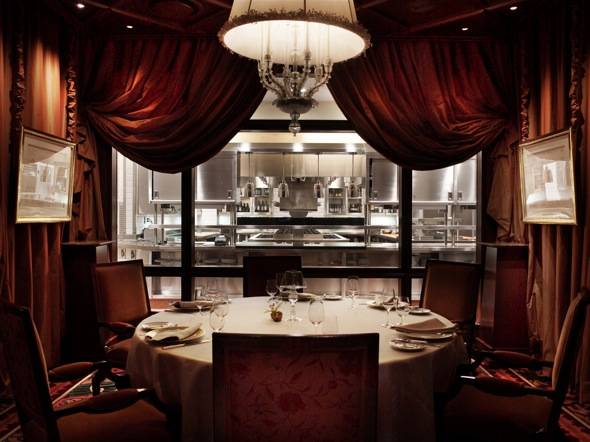 You want a great dining experience, maybe something personalized, and you want to make sure the chef is prepping it specifically for you. You need to reserve a chef's table at one of Las Vegas' top dining destinations. Look for special menus, unique pairings and an experience of a lifetime. Here's a look at the Haute 5 chef's tables in Las Vegas.
Alex
Put together a top chef and a private dining experience and you start to get an idea of what it would be like to dine at the chef's table at Alex at Wynn Las Vegas. The room and table, which seats eight, are personalized to your liking. Chef Alex Stratta prepares anything from a three-course a la carte menu to a multi-course tasting with sommelier's wine pairing in this space that has hosted high-profile politicians, celebrities and casino VIPs. Watch the food prepped before your eyes at this space with full views of the kitchen and considered one of the best restaurants in the city.
Alex is located at Wynn Las Vegas, 1.888.352.3463, www.wynnlasvegas.com.


miX
Combine the stunning views from the 64th floor of Mandalay Bay with the French culinary creations of Chef Alain Ducasse and you have a nice miX, Ducasse's dining destination. The chef's table there is set off a bit from the restaurant in a semi-private room and you're guaranteed an amazing view no matter which side you sit on. One side faces the windows overlooking the Strip while the other side faces the open kitchen so you're able to see the chefs preparing the meal. The chef's table includes a tasting menu that includes an heirloom tomato and Dungeness crab salad, sauteed tiger prawns with a spring vegetable salad, cod Brandade with brown butter, a rack of Colorado lamb and a banana tart, if you have room. Dinner goes for $90 per person with a $45 optional wine pairing.
miX is located at Mandalay Bay, 702.632.9500, www.chinagrillmgt.com.

KGB Kerry Simon's Gourmet Burgers
Let the rock-and-roll chef wine and dine you at his latest restaurant, KGB Kerry Simon's Gourmet Burgers at Harrah's. The gourmet burger joint decorated in Communist-inspired gear features the Interrogation Room, a chef's table that makes you feel like you're in an old Russian eatery. Chef Kerry Simon was inspired by his victory on Food Network's Iron Chef America, where he prevailed over Iron Chef Cat Cora with the ultimate burger.
KGB Kerry Simon's Gourmet Burgers is located at Harrah's,
www.harrahslasvegas.com/casinos/harrahs-las-vegas/restaurants-dining/kerrys-gourmet-burgers-detail.html.
First Food & Bar
The chef's chef out of Manhattan sets his guests up at an eight-person high-top table at a kitchen station next to the entrance of First Food & Bar at the Palazzo. Chef Sam "Sammy D" DeMarco has served up chicken wings and sliders to the culinary elite such as Wolfgang Puck and Charlie Trotter. Order off the menu or go for a true chef's table experience and let DeMarco know your budget and number of people to get the chef's recommendations.
First Food & Bar is located at the Palazzo, 702.607.3478, www.firstfoodandbar.com.

AquaKnox
This seafood gem in the Venetian serves up cool dishes at its chef's table that accommodates up to 10 people. AquaKnox is cool blue, much like an aquarium, and features a water-encased wine cellar. A five-course tasting menu and wine pairing served by Chef Tom Moloney himself highlights dinner.
AquaKnox is located at the Venetian, 702.414.3772, www.aquaknox.net.
Subscribe to discover the best kept secrets in your city