Mix up your usual dining out routine by making a reservation at one of these Haute 5 chef's tables to experience a unique culinary experience complete with chef interaction and V.I.P. service.
C-144 at Christopher's Restaurant and Crush Lounge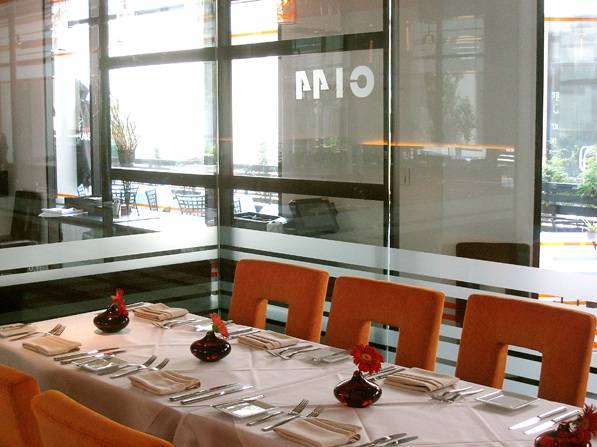 At Christopher's Restaurant and Crush Lounge in Biltmore Fashion Park, the chef's table, called C-144, is hard to miss. Enclosed in glass and situated in the center of the restaurant, C-144 provides a remarkably cozy atmosphere, views into the kitchen and seating for up to 10 people. Executive Chef Christopher Gross, a former featured chef for the James Beard Foundation Dinner of the Decade, prepares a sumptuous – and adventurous – tasting menu in the restaurant's French bistro-style of cuisine for his very special guests to enjoy in this "see and be seen" dining spot.
Christopher's Restaurant and Crush Lounge is located at 2485 E. Camelback Road in Phoenix  602.522.2344
Nobuo at Teeter House
The latest dining sensation to hit Heritage Square is Nobuo at Teeter House, by renowned Executive Chef Nobuo Fukuda. Occupying the space inside a remodeled turn-of-the-century bungalow, the restaurant's aesthetics were designed to evoke Japan's laid-back izakaya venues, where friends enjoy small bites and refreshments. While during lunch Nobuo at Teeter House serves savory small plates and strong teas, in the evenings the chef serves omakase creations in his reservations-only private dining room, putting on quite the performance for those who love inventive Japanese fare.
Nobuo at Teeter House is located at 622 E. Adams St. in Phoenix  602.254.0600
XII at Sanctuary Camelback Mountain
XII is the brand-new private chef's table of elements restaurant at the Sanctuary Camelback Mountain Resort and Spa. Parties of up to 12 guests can enjoy this exclusive dining experience, which includes some chat time with the chef, a custom display table of hors d'oeuvres and a specially created multi-course tasting menu. The in-room curtains and sliding glass doors can even be pulled aside to offer guests glimpses into the show kitchen, promoting conversation and chef-guest interaction.
Sanctuary Camelback Mountain is located at 5700 E. McDonald Drive in Scottsdale  480.948.2100

"Wine Me, Dine Me" at SWB at the Hyatt Regency Scottsdale Resort and Spa at Gainey Ranch

Chef Ricardo Sanchez hosts "Wine Me, Dine Me" dinners at SWB Tuesday through Saturday between 5 and 9 p.m. Parties of up to six guests are seated at the elegant counter adjoining the open kitchen, where it's possible to watch the chef and his team prepare a four-course meal of Southwest-style cuisine using the kitchen's wood-fired ovens. Different libations, such as tequilas, red and white wines and dessert wines, are paired with each dish so as to best bring out the flavors, and Chef Sanchez fills guests in on specific cooking techniques and ingredients throughout the evening.
The Hyatt Regency Scottsdale Resort and Spa at Gainey Ranch is located at 7500 E. Doubletree Ranch Road in Scottsdale  480.444.1234
POSH "Improvisational Cuisine"

OK, so POSH doesn't have a "chef's table in the true definition of the phrase, however, as a fine dining restaurant specializing in entirely improvisational cuisine, it could be argued that POSH provides every guest with a chef's table experience. How does it work? They provide a list of seasonal ingredients, which you peruse, crossing off any you don't like (or may have an allergy to). Then just leave the rest to them. Owner and Executive Chef Joshua Hebert and Chef de Cuisine Zac Zaun will use your list to whip up a spectacular meal of four courses or more (your call), ensuring that the experience is completely creative and utterly unique. The best place to sit is at the 25-seat counter which surrounds the kitchen. There the interactivity of the meal is boosted by the direct views into the kitchen, where chefs Hebert and Zaun are always up to a good challenge.
POSH is located at 7167 E. Rancho Vista Drive, Suite 111 in Scottsdale  480.663.7674
Subscribe to discover the best kept secrets in your city