MAGIC is known for launching new fashion lines and the bevy of celebrity parties at the big nightclubs along the Strip. The world's largest fashion trade show saw the launch of Paris Hilton's new spring 2001 shoe collection and her new fragrance, Tease, at Tryst Nightclub at Wynn Las Vegas.
The hotel heiress arrived on the pink carpet with a full entourage including parents, Kathy and Rick Hilton. She stole the show as fans gathered around to get a glimpse of the socialite as she showed off a pair of black peep-toe pumps from her new collection. Inside, the entire club was decked out in her favorite color pink. From pink rose petals and pink lights to even turning its stunning 90-foot waterfall pink with Paris' name on it, Tryst was dedicated to the infamous party girl for the evening.
Along with her large entourage, she was seated at the most exclusive VIP table in the venue. Doing what she does best, the heiress spent the night dancing, partying and was the center of attention until the early hours of the morning.
Also in the house was special guest DJ Jermaine Dupri. To get the party started, Dupri took center stage and worked the turntables as Paris got on the mic to say welcome all the club goers.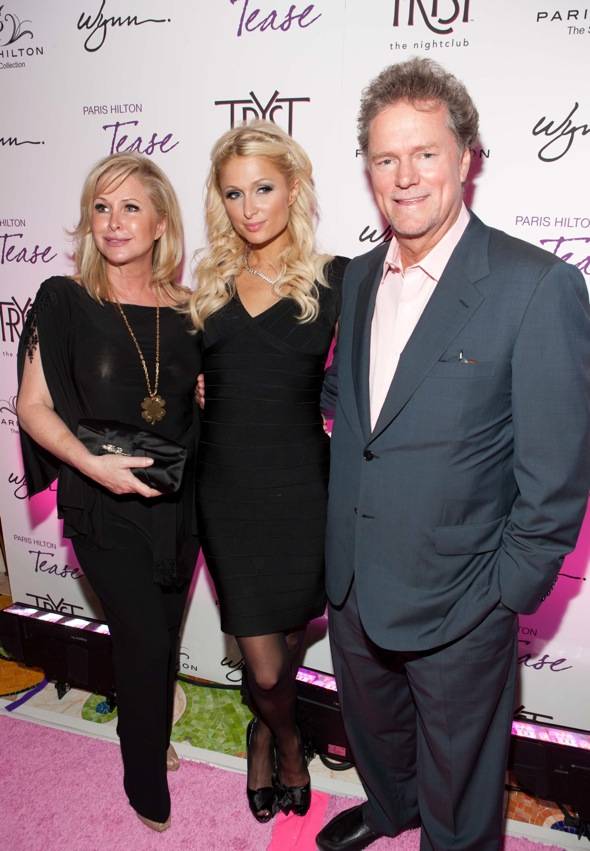 Kathy Richards Hilton, Paris Hilton and Rick Hilton
Kathy Richards Hilton, Paris Hilton and Rick Hilton pose on the pink carpet outside Tryst.
Paris Hilton
Paris Hilton walks the pink carpet at Tryst. She launched her spring 2011 shoe collection and her new fragrance at the swanky nightclub.
Paris Hilton
Tryst turned the waterfall pink in honor of Paris Hilton.
Paris Hilton and Jermaine Dupree
Paris Hilton and DJ Jermaine Dupri helped get the celebration started at Tryst.
Subscribe to discover the best kept secrets in your city