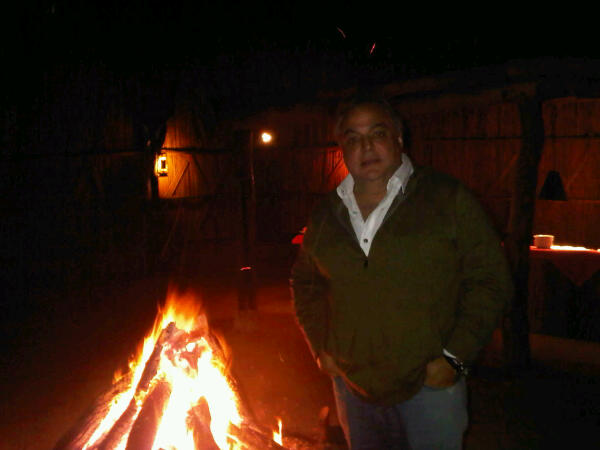 Our Haute 100 list details the accomplishments of the most influential people in each of our markets—Miami, New York, Los Angeles, and San Francisco. These people continue to make moves, so rather than waiting for the next Haute 100 issue to come out, we thought we'd provide you with regular updates on those Haute 100 members who are making headlines. With storms brewing here in Miami, an African safari would be pretty Haute and Mr. South Beach Food & Wine Festival himself  is on safari now.
Lee Brian Schrager
Category: Entrepreneurs
Company: Southern Wine & Spirits
Industry: Food & Beverage
What Makes Him Haute: Lee Schrager is the godfather of the of the South Beach Wine & Food Festival as well as the New York Wine & Food Festival. Schrager has played a huge role in the growth and success of the FIU School of Hospitality. Schrager is Southern Wine & Spirits vice president of corporate communications and national events and by the sounds of all he is doing, he is doing his job fantastically well.
What Makes Him Haute Now: Lee Schrager is having quite the summer. It was just announced that he is on board with designing Barney's New York's Christmas window. What is his theme you may ask? That's right. It's going to be a Foodie Holiday. December is so far away though, so Schrager is keeping himself busy on an African safari in the meantime. Kruger National Park is a fabulous escape from the Miami summer heat. The Mala Mala Game Reserve is the largest Big 5 game reserve in South Africa, which means Schrager will be among all of the great safari animals: lion, leopard, buffalo, elephant and rhinocerus . If a Big 5 safari isn't enough, he's also been out on the search for Great White Sharks, and by the looks of his tweets, he found them!
Check it out to see more.  https://twitter.com/Lee_Schrager
Subscribe to discover the best kept secrets in your city