There was a time when Las Vegas tried to tout itself as a family-friendly town. Bring the kids! That idea was quickly shot down when everyone remembered that Sin City was all about indulging in the caprices of this adult playground. But fear not. A few vestiges of that bygone era remain. Here's a look at the Haute 5 kid-friendly venues in Las Vegas.
Fit for a King
Fire-breathing dragons and brave kings come together to battle it out to the death at the Tournament of Kings at the Excalibur. Cheer on your favorites as they joust, duke it out and race their mighty steeds in contests to determine the best. Fair maidens vie for the brave kings and czars' hearts in this extravagant dinner show where you eat with your hands. Like all good fairy tales, good wins over evil and the heroes reign over the land. The show is celebrating its 20th anniversary this year, making it one of the longest-running acts in Las Vegas. Tickets start at $56.95 and include a three-course dinner.
Tournament of Kings at the Excalibur, 702.597.7600, www.excalibur.com/entertainment/tournament_of_kings.aspx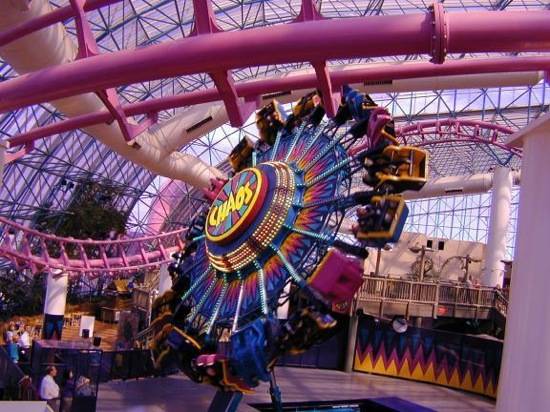 Thriller
There's nothing quite like a circus to keep children entertained and there's no better place to see one than at Circus Circus, where you can kind the Adventuredome and its cavalcade of rides. The Sling Shot catapults you toward the ceiling at 4 Gs and the Canyon Blaster roller coaster will leave you breathless with its double-loop, double corkscrew track, the only roller coaster like this in the United States. Or just get a demented clown's version of a fun house in the Fun House Express. You can even play a round of miniature golf, laser tag or try your luck at the arcade or midway booths. All-day passes are $24.95 for those 48 inches tall or taller and $14.95 for those under 48 inches.
Adventuredome at Circus Circus, 702.794.3939, www.adventuredome.com

The Swim
Get your fill of Atlantic bottlenose dolphins and the white tigers, white lions panthers and leopards of Siegfried and Roy at the Dolphin Habitat and Secret Garden at the Mirage. The 2.5-million-gallon Dolphin Habitat is home to a family of dolphins who occupy four connected pools with an artificial coral reef system and sandy bottom that replicate the dolphins' natural environment. Most of the dolphins were born here. Be sure to ask about swimming with the dolphins while you're there. At the Secret Garden the big cats relax in a lush environment modeled after their natural habitats. Tickets are $15 for adults, $10 for children ages 4 to 12 and free for children 3 and under.
Dolphin Habitat and Secret Garden at the Mirage, 702.791.7188, www.miragehabitat.com

Roar
MGM's films always start with a tribute to the lion, the entertainment company's official mascot. It's no different in Las Vegas. You can find the Lion Habitat at the MGM Grand and watch these majestic creatures while only separated by one and a half inches of glass. When they're not on display, the lions live on an 8.5-acre ranch 12 miles from the MGM Grand and are cared for by exotic animal trainer and conservationist Keith Evans. The lions only stay in the habitat for a six-hour rotation, but you may catch a trainer hand-feeding and playing with one of the 20 females and 11 males. Admission is free.
The Lion Habitat at MGM Grand, 702.891.7800, www.mgmgrand.com/entertainment/lion-habitat.aspx


Take a Bite
Get up close and personal with one of the 2,000 animals on display at the Shark Reef Aquarium at Mandalay Bay, where more than 100 different creatures swim with 15 species of sharks. The largest exhibit is the 1.3 million-gallon shipwreck, where you're surrounded by sharks and fish in an acrylic tunnel. At the Touch Pool, you can lay your hands on a collection of creatures, including sharks, rays and horseshoe crabs. The 14 exhibits at the reef are celebrating their 10th anniversary this year. Tickets are $16.95 for adults, $10.95 for children 12 and younger and free for children 4 and younger.
Shark Reef Aquarium at Mandalay Bay, 702.632.4555, www.sharkreef.com
Subscribe to discover the best kept secrets in your city