Photo Credit: MICHAEL SCHWARTZBY LAURA SCHREFFLER
PHOTOGRAPHY MICHAEL SCHWARTZ
STYLING CHARLIE RINCON
GROOMING CESAR FERRETTE
SHOT ON LOCATION AT SEMINOLE HARD ROCK HOTEL & CASINO, HOLLYWOOD, FLORIDA
Photo Credit: MICHAEL SCHWARTZ
Never. Get. Too. Comfortable.

This is the advice NBA veteran Udonis Haslem gives me when I sit down with him a few weeks after one of the most exciting and unexpected championship finals in the National Basketball Association's history, an epic showdown between eventual winners the Denver Nuggets and Haslem's team, the Miami Heat.

Or, should I say "former team." Haslem, now 43, made headlines when he officially announced his retirement prior to the 2022-2023 season. His name, you see, has become synonymous with the Heat, the team with which he's played for the entirety of his 20-year career (fun fact: he is one of only three players in history to play for the same team for at least 20 years, including former Dallas Mavericks star Dirk Nowitzki and the late, great Los Angeles Laker Kobe Bryant). Hanging up his red, black, and yellow No. 40 jersey was an incredibly big deal — not just to the team, but to the city where he was born and raised, too.

Despite having the kind of career that legends (and biopics) are made of — starting as an undrafted rookie in 2003 and leaving in 2023 as the longest-tenured player and all-time leading rebounder in the team's history, with three championship wins under his belt — his road to retirement hasn't always been covered in gold. If anything, it was the opposite: a long, winding, and pothole-paved journey riddled with insecurities and injuries, but also one that ultimately drove him to become the best version of himself.

"I think the reason I am the way that I am is because, no matter what, I never thought I would be in the NBA for a long time," Haslem confides over Zoom in late June, just two weeks after his historic final game. "I was never the guy that had it made. I was never the guy that got comfy. I was always the guy who had a chip on his shoulder, yet who found a way to be motivated by something. I never lost the mindset of the undrafted guy."

I ask, "Not even in your 20s? Not even at the height of your career?"

Haslem looks at me somberly and admits, "Not even right now."

Having that ever-present underdog mindset could have been debilitating, but in Haslem's opinion, it provided a necessary fire to continuously push and improve. "It's a gift and a curse, but I do think that without that part of me, this underdog never had a chance," he confesses, noting, "I always thought of myself as the guy who had to work twice as hard or 10 times as hard, if need be, just to get a seat at the table. And I don't want to just have a seat at the table, you know what I mean? I want to run that table. So, I've never been a guy that got comfortable. If I achieved a goal, I'd be like, OK, now what's next, because I didn't think I could do this. But guess what? I did it. So now, damn, what else can I do that I didn't think I could do if I just try? If I push myself and just believe, what else can I possibly achieve?"

I'm getting Dr. Seuss vibes from "UD" until he continues, "I couldn't have dreamed it any better — which is why I think I didn't dream. I think that's why I got up every day, hit the pavement, and acted like I was undrafted. I acted like I didn't have anything, and it brought me to this point."

He takes me on a trip down memory lane, to both the best and the worst of times, including his career-defining moment in 2006 against the Dallas Mavericks, the first of his three NBA championship wins. "I went into that final undrafted — a kid from Miami that nobody was really giving a chance, on the biggest stage in basketball, at a time where literally anyone who loved basketball was watching — and I held my own. I did more than hold my own," he reminisces. "I helped win the first championship in Miami Heat history. To perform the way I did and then also win, well, to me, that was the biggest moment that defined Udonis Haslem as a Miami Heat player."

Photo Credit: MICHAEL SCHWARTZ
But as he's driven home pretty well at this point, his journey wasn't always the stuff of dreams. There were bad times, too, and lots of them. The most terrible was in 2008, when the Heat drafted Michael Beasley as a power forward, the position UD also played. "My role was obviously going to change when Beasley joined the team. I went from being a starter to a guy riding the bench, but that's the way the business goes," he recalls, sharing that, at the same time, his beloved mother had become incredibly ill, and as a result, his head was all over the place. Yet, because he excelled and exceeded his own expectations, he now only feels pride for that tough time. "With that said, I didn't pout, I didn't whine. And, as it turned out, that was one of my best years in a long time playing basketball. I'm a guy that, if you put me in a situation and give me enough time, I'll figure out how to win no matter what," he maintains.

And regardless of whether he's won or lost through the years (because in as much as he says he always wins, I know what he really means is that he always comes out on top and respects himself in the process), he can certainly sleep easily at night knowing that he gave his all, that he fully and truly embodied "Heat culture."

Udonis is Heat culture, and, as Heat president Pat Riley says, "Udonis is Miami," too. But what is Heat culture, and what does it mean to UD? "Heat culture is something that you believe in that is bigger than yourself, bigger than what you are as an individual. Heat culture gives you something to believe in. Heat culture gives you a standard. That standard is not for everybody — it's not attainable for everybody. It's accountability on a very high level, a sacrifice for the greater good, a standard that is set that gives you something that is way beyond what you can ever achieve on your own."

That, right there, is what has made UD the unofficial gatekeeper of Heat culture, the ultimate hype man, and a stellar teammate. It's a role he takes extremely seriously, but as someone with such longevity who has come from and fully embodies the Magic City, it isn't unexpected. He knows that he couldn't have gotten to where he is without his teammates, and the same goes for them. It's why, as the years passed and retirement came closer and closer, he comfortably wore the cloak of mentor and motivator for his team.

That he has been able to evolve in this way has no doubt set him up for success with the younger generation of athletes. "You know, I've seen [two decades] of players come through here. Not only has the talent level changed, but the basketball IQ has changed, the personalities have changed, the interests have changed. The world has changed," he says. "I've had to be able to not only fit in but lead [both] of those generations. As much as I give these guys something from me to learn, I received a lot from them to learn, too. It helps me with the next generation to relate and understand.

"I think that's one thing that I do differently now than when I came in," he continues. "When I first came into the league, the veterans didn't care to understand; you just had to understand them and do things their way. You can't do that now. You have to understand these kids; you have to understand how to motivate them, what they like, and what they don't like, but that can only happen after you gain their trust."

Photo Credit: MICHAEL SCHWARTZ
UD seems to have developed true, strong relationships with the younger generation, citing names such as Bam Adebayo, Hassan Whiteside, Caleb Martin, and Wayne Ellington as those that he's impacted, and vice versa. "I've watched [these younger] guys getting nice contracts and I see them flourishing. I'm not impressed by them, because I knew they had it in them, just like my father believed in me. He infused in me from an early age the belief that I could win, that under no circumstances should I take a back seat to anybody. And that's what I've infused in them. When these guys walk into a locker room as undrafted or overlooked, I tell them that they are never to think they're less than. I don't care what the draft says, I don't care what the media says — you're just as good, or better. And when they win, when they believe in themselves, that's the success that I needed to keep me going," he says.

They returned the favor, obviously, particularly this year. When I ask what they've done for him, in particular, what kind of epic rager of a farewell gathering they threw in his honor, he responds simply, "They took me to the finals." End of discussion.

He adds, "I love each and every one of these guys. They left their hearts and souls on the court every night, and that's all I could ever ask for."

Well, that, and they brought him wins. Lest you forget, UD is still a competitor at the end of the day. He says as much now, sharing, "Now, at this point in my career, now that I'm retired, I appreciate that culture even more. When you're in it, you keep your head down and pray you win a championship; you're living at that point every day. You know you feel great when you win, but you lose and you're freaking miserable. You go home, sit in the dark, watch the screen saver on your Apple TV profile for an hour or so. I'm now to the point where I'm just appreciative and have nothing but gratitude. I'm thankful that people ever look at me that way. Because when I was playing, I was such a fierce competitor that most people probably didn't like me outside of this organization, and I can understand why. But now that I'm taking this role that's more of an OG, a mentor, I'm a much more respected person; I'm more liked." He says with a laugh, "And it's OK to be liked sometimes."
If that isn't an epiphany, I'm not sure what is.
Photo Credit: MICHAEL SCHWARTZ
When I meet Udonis Haslem, he's sitting in his Miami man cave (which he calls a "club room"), drinking water from a plastic cup, surrounded by the jerseys of other famous athletes like Dan Marino, Michael Jordan, Mike Miller, and James Posey, as well as his Heat dudes, Bam Adebayo and Dwyane Wade. He's relaxed and low-key, black cap pulled low, wearing a bright green T-shirt, a thick gold chain emblazoned with "UD 40" (a present from fan and jeweler Daniel Gottfried), and a Rolex "Panda" that is as brilliant as his smile. Life, right now, is clearly good… outside of the obvious elephant in the room.
Where in the heck is his jersey on this wall of fame?

He points to an ambiguous spot somewhere over his shoulder. "I've got my jersey up there from my last NBA Finals, over in the corner next to Michael Jordan and Dan Marino. My high school jersey is up there, too. But yeah, I've got most of them up here, my boys, the guys I played with who I consider to be friends. It's inspirational, and where I spend most of my time. My family is here — my boys [Kedonis, 24, Elijah, 16, and Josiah, 12] and my wife of 10 years, Faith — but I'm able to come up here and brainstorm, nap, wake up, and brainstorm some more."

Despite coming off of a 20-year tenure with the Heat and a rigorous playoff schedule, UD is still in go mode. "I have not even taken a vacation yet," he admits. "Me and my wife were literally just sitting here talking about a vacation 30 minutes ago, but it hasn't happened yet. Straight from the playoffs, it was all about business. I went to visit my affordable housing project, went to go check on my medical marijuana project down south, and straight from that, to the kids' basketball tournament in Fort Lauderdale and a baseball tournament in Winter Haven. Now, I'm back home for a week [before I head to] NBA Summer League. Then, the wife and I are going to figure out some time to ourselves."

I applaud his resilience, because the man seriously deserves a break. But I get why he hasn't had one: with so much changing, there is a comfort in consistency — plus, UD has been working this hard his entire life. After graduating from Miami Senior High School, he went to the University of Florida, where he was the starting center for four NCAA tournament teams. Post-graduation, he spent the 2002-2003 season in Chalon-sur-Saône, France, before signing with the Heat as a free agent in August of 2003. In recent years, as bidding farewell to basketball became a reality, his focus started to shift to outside endeavors, like humanitarian efforts such as his Power Forward Through Hunger initiative in partnership with the Udonis Haslem Children's Foundation, and business ventures, including five Subway franchises, two Starbucks locations, and an Einstein Bros. Bagels (where he partners with CareerSource Florida and the Employ Miami-Dade project to hire and train local job seekers and young adults from low-income families to work at his stores). He is also a partner in The Flowery, a Florida-based medical cannabis company, and has big plans for the Miami Center for Mental Health and Recovery, a facility that will include affordable housing, rehabilitation, and mental health work.

He's doing it all in his hometown of Miami, for the city of Miami. It's how he'll continue to keep winning off the court, you see. "For me, [the best part of life] has always been about helping other people," he says. "I think I've won more than enough for myself; I've been chosen to experience so many amazing things. So, from now on, winning is doing what I'm doing for the city of Miami. I'm still in the city every day, so I see the struggles of the people; I've never been disconnected. So, every time I see something, I gotta do something about that."

I believe him. UD is clever, resilient, and loyal — and most importantly, he cares. He's aware that the legacy he's leaving isn't just for himself, but for his city, for his people, his family, those that have sacrificed so much for him to get to where he is today.

Photo Credit: MICHAEL SCHWARTZ
It is those that he carries with him everywhere in the form of tattoos, flashing at me like beacons in the warm afternoon light — in honor of his kids, his wife, the friends and family members who have passed away, his grandparents, his stepmother, his father, and even himself as a baby, a reminder of the child he was and how far he's come. There is also a tattoo just for his mother, an inspirational woman who overcame drug addiction and homelessness to help others find their way and make it in life, too — just as he is doing now.

Then there is the other member of his family: his home. The state of Florida is large and prominent on his back, an homage not just to the Magic City, but to the Sunshine State itself. And, of course, at the heart of it all is Miami, the city that shaped him and the city which he, in turn, has left an indelible mark on — and which he will continue to leave a mark on.

"The plan," he says, "is to continue to embrace the city of Miami and invest in myself. I'm going to stay in the city and hopefully continue to help this championship organization play for further championships, stay at a championship level, and go beyond that. I want to be a part of the ongoing evolution of the Miami Heat."

And how does he plan on doing that? Well, as with everything he does, UD is going all in. There will be no coaching for him, thanks — he wants ownership of the team that fostered him. "The next phase for me is to sit next to the people who really move the needle within the organization — [president] Pat Riley and [owner] Micky Arison — guys who I can learn and grow from. I want to sit next to them, to be in the ownership space," he says. "That's something I aspire to do, and it's a conversation that I'm starting to have, and going to continue to have. I spent 20 years on the sidelines. If I was the coach, I would still be on the sidelines. I'd still be living and dying with every loss. For me, it makes sense to maximize my potential and my growth."

I hear him and believe that, for him, anything is possible. As UD himself says, "I was a guy from Miami who became the longest-running Heat player in history. I've exceeded every expectation anybody could have ever put on me. And I want to share that: that if you do things the right way, this could be the result. I'm a three-time NBA champion with the most rebounds in our organization. I've been here for 20 years. I was the oldest player in the NBA and the longest-tenured with the Miami Heat. All of this can happen. All of this did happen. I have no regrets and no complaints."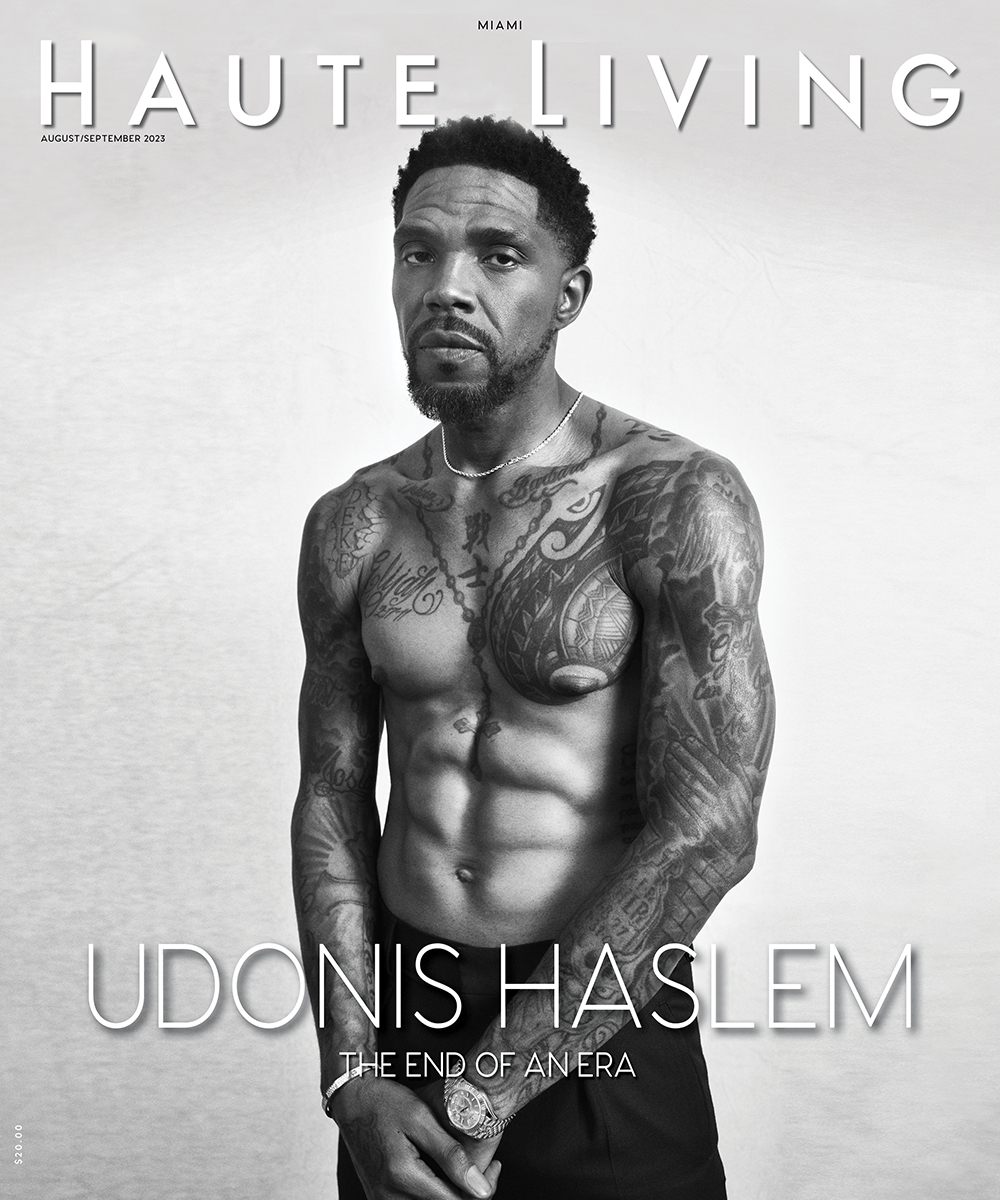 Photo Credit: MICHAEL SCHWARTZ
Subscribe to discover the best kept secrets in your city