You wouldn't know it just by looking at her, but Molly Sims wasn't born a supermodel. The hometown girl from Kentucky easily commands the room with her world famous good looks, yet it's her down-to-earth charm and girl next door vibe that makes her so approachable. The model-turned-actress-turned wellness pro can hold her own on a red carpet as well as a drive thru and, unlike most, she's happy to talk about it all.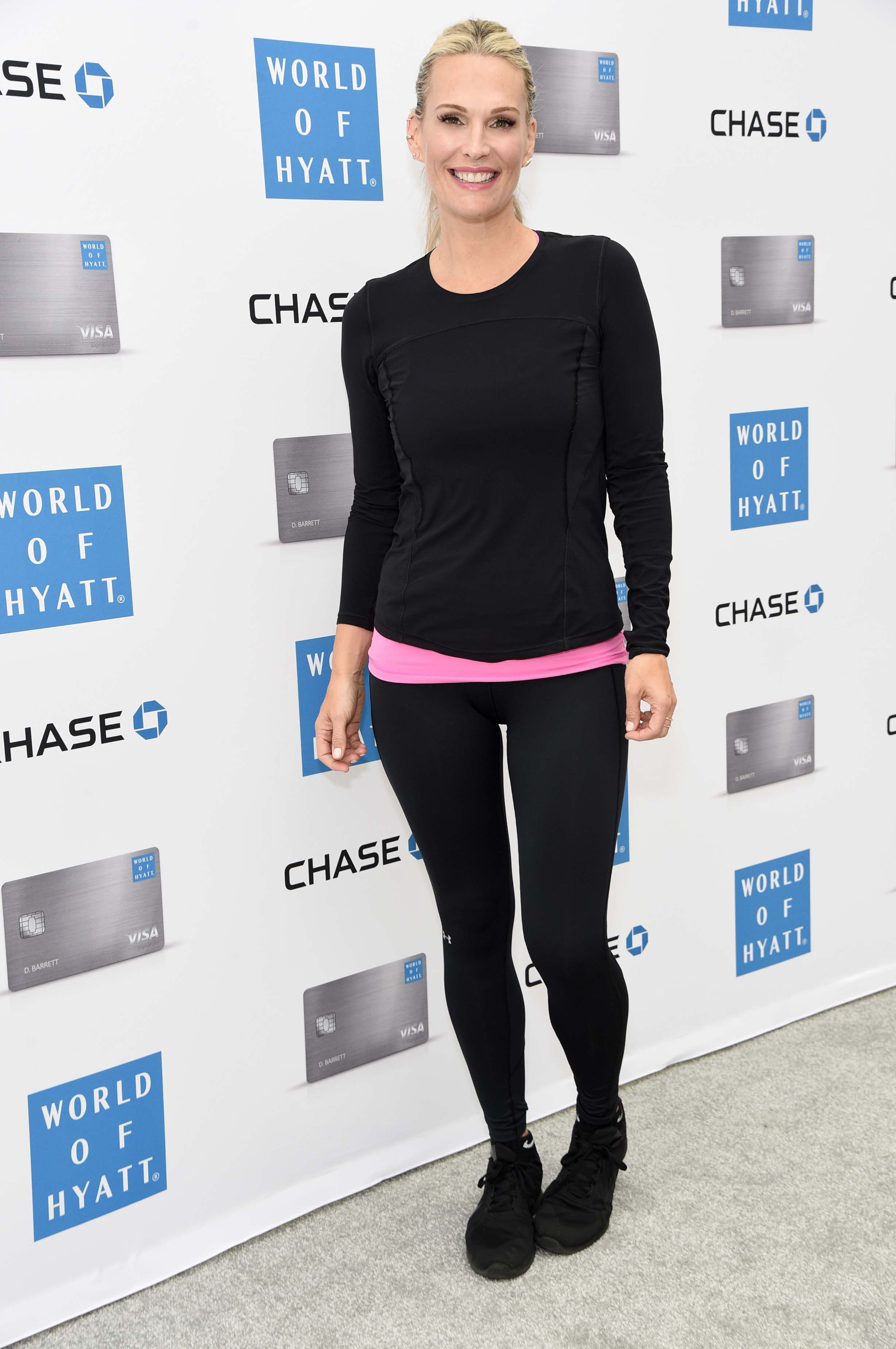 Photo Credit: Michael Simon/startraksphoto.comIn 2015, Sims penned a regular girl's guide to Hollywood's best kept beauty, fashion and fitness tips. She was praised for her fresh attitude and honest frankness about things like going without makeup, struggling with her weight and building a wardrobe that celebrates your body. Just last year, she released her latest book book Everyday Chic: My Secrets for Entertaining, Organizing, and Decorating at Home, which broke it all down from how to be a haute host to keeping the happiest of homes.
All settled down now with producer husband Scott Stuber and their three kids, you'd think that Sims was taking it easy compared to the days she spent jet setting around the world for MTV House of Style and shooting covers for Vogue, Marie Claire and Cosmopolitan. Instead she is busier than ever being a mom, running her fashion empire Molly & Minnow, taking over YouTube and trying to change the world. She's a celebrated humanitarian having done work with Operation Smile, March of Dimes, Friends of El Faro and Baby2Baby, an L.A.-based charity that donates strollers, cribs, bottles and other baby goods to the local families that need them most.
"Every time I give gifts, every time I have Christmas or birthdays, half goes to Baby2Baby. Anything anybody doesn't want we'll take it. I love being a part of it."  When Sims was pregnant with her youngest daughter, she even hosted a baby shower for 40 women whose spouses were deployed overseas. The star travels so much, Chase and Hyatt knew she'd be the best person to help spread the word about their new partnership and credit card.
"You know Chase was actually the first credit card I owned," Sims shared. "That's right!  And I absolutely love traveling and staying in Hyatt hotels, so when the opportunity arose to partner with both these groups how could I say no?"
Molly's goal is to get busy pros to stop and, as she said in her first book,"suck the marrow out of life." She does that by indulging in her favorite beauty products, never skipping a workout and hopping on a plane whenever she feels her family is in need of a little together time via a family vacation (Cabo is a favorite). She stays true to her holistic beliefs and stays as natural as possible.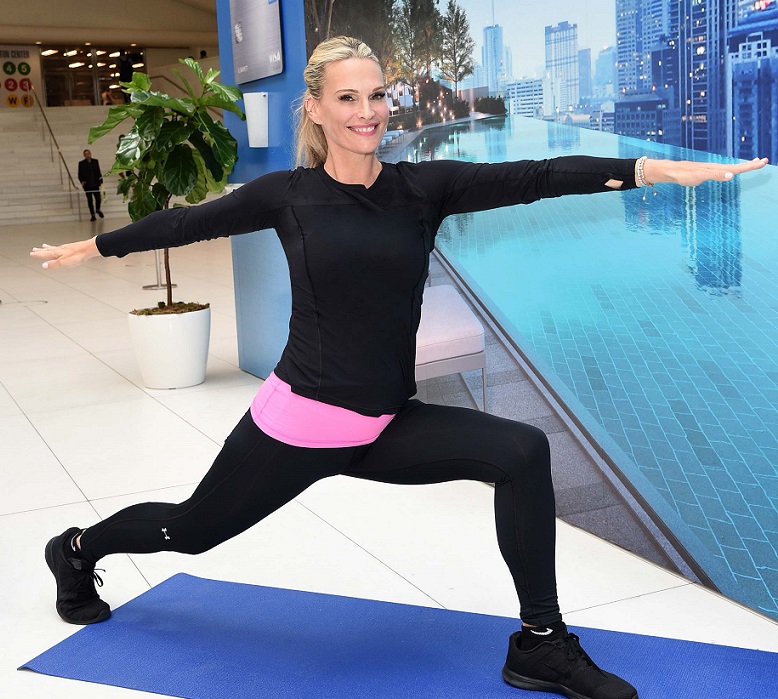 Photo Credit: Michael Simon/startraksphoto.com
During an afternoon in the world famous Oculus at the World Trade Center, we chatted about her wellness routine (she showed up with a yoga mat), family, travel and her secrets for looking good and staying healthy; if you happen to see someone on a plane wiping down all the seats and TV monitors, it's her. "I travel with all the cleaning products you can think of, that way I can wipe down the seats and armrests before settling in."
Read on for more on her healthy habits, travel tips and style secrets.
How often do you travel?
I travel multiple times monthly, whether for work or family time. We love going to Cabo to escape the "cold" LA winters, and running away to the Hamptons in the summer months.
You wrote the book on staying chic everyday, literally. What are your top tips for staying chic while traveling?
After traveling so much, I've learned a lot of secrets. First of all, you can never be ashamed to look a little silly. I will throw on some under eye patches, a nice face mask – currently loving Summer Fridays' Jet Lag Mask by Marianna Hewitt and Lauren Gores, and relax. That way you hop off the plane feeling chic.
What are your favorite all natural products for travel?
One of my favorite all natural products is MitoQ. They have a line of supplements and skin care products. I also love ALL Ouai products – shoutout to my girl Jen Atkin. They hydrate and tame frizz for travel.  
How do you stay healthy when your travel schedule is so hectic?
Staying healthy while traveling is an important life hack. I always travel with my own snacks so I can stick to healthy options and am not tempted by plane food.
Photo Credit: Instagram/MollySims
You make traveling with kids look easy. What are the five travel essentials every mom needs to pack?
Wet Ones of course! And snacks!  We love the Annie's Organic Cheddar Bunnies. Third, Biologique Recherche Lotion P50 PIGM 400 because momma loves her skincare regimen. 8 Greens – it's a tablet, created by Dawn Russell, that you can pop in some water and enjoy. And, finally, my Cuyana bag because I can throw all these essentials inside.
You've traveled the world. What are your favorite destinations?
I've been to some pretty amazing places, especially when I was first starting my career. But I've got to say Cabo is one of my top destinations. Having family time out there is so special. In terms of dream locations, I'd love to go to Dubai for the culture and food.
How do you stay fit on the road?
A reason why I love Hyatt Hotels is because of their gyms. They are always family friendly, and now with the new World of Hyatt Credit Card I can earn points while working out.
Photo Credit: Allen Daniel
Subscribe to discover the best kept secrets in your city