On Saturday, July 15, 2017 Shu Chowdhury, CEO of the restaurant operating system SALIDO, and Michael Loeb, CEO of Loeb Enterprises, hosted the Chefs Care BBQ to benefit Pop.Earth, a non-profit offering complimentary and low cost holistic health and wellness programs for those living with autism and developmental disorders. 
Photo Credit: Denis Leon
Held at Leob's breathtaking beachfront Southampton home, as seen on the Showtime show "Billions," over 500 guests turned out to support while enjoying music from DJ Politik and tastes of BBQ from over 20 of NYC's most celebrated chefs including: Michael Loeb (and sons), Franklin Becker, Floyd Cardoz, Marco Canora, Maria Loi, Alex Guarnaschelli, Jean Paul Bourgeois, Michael Ferraro, Jamie Young, and more.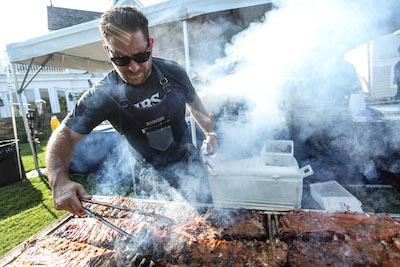 Photo Credit: Denis Leon
Award-winning chef Jonathan Waxman emceed the evening, which culminated in raising over $250,000 from the live and silent auctions. Chowdhury and Loeb look forward to welcoming guests back next summer for another epic charity evening.