THE BEATRICE INN 
Antanas Samkus, beverage director
Photo Credit: Beatrice Inn
Most popular luxury drinks at the Beatrice Inn: The Big Poppa and the Smoked Manhattan. For the Big Poppa, we use gin washed with white truffle oil, yuzu juice, yellow Chartreuse, and egg white, all high-quality ingredients. We finish this drink with a gold-dust rim, which gives this cocktail a beautiful marble-like look—and perhaps leaves a little sparkle behind on the drinker's lips! With the Smoked Manhattan, we mix 100-proof rye whiskey, exquisite Italian Carpano "Antica Formula" red vermouth, and a dash of Grand Marnier with some bitters. We place the Manhattan in a crystal glass full of herbs and add cold cherry-oak smoke. The drink is garnished with maraschino cherries sprayed with Isla scotch.
Iconic drink to order at your bar: Either the Big Poppa or the  Smoked Manhattan; they are fun, unique experiences to have.
Photo Credit: Beatrice Inn
Your most memorable luxury drink experience: My friend David Bonatesta, a bartender at the NoMad bar, made this tiki-style drink called Zombie served in a big silver skull. I think it was flaming too! But when I see a bartender doing what they do with passion, knowledge, and dedication to service, a cocktail becomes special.
Big cocktail trends for 2017: Back to simplicity and the classics, with some creative approaches. I hope we're done with this cocktail boom in which mixologists use 15 ingredients and take 20 minutes to make a drink. I believe there will be more focus, not just on cocktails and the bartender but on hospitality. and the guest experience.
NOMAD BAR
Nathan O'Neill, head bartender
Photo Credit: Daniel Krieger
Most popular luxury drink at the NoMad Bar: We have a fantastic reserve list with rare, hard to-find, vintage spirits. The Vieux Carré, created in New Orleans in 1938 by Walter Bergeron, is one of our most luxurious cocktails. We use Artesian 50-year-old cognac, Thomas H. Handy sazerac rye, plus Antica Formula sweet vermouth, Benedictine, absinthe, and Peychaud bitters.
Iconic drink to order at your bar: The Walter Gibson, a play on the classic Gibson, created by our bar manager, Pietro Collina. It is a mixture of Chenin Blanc dessert wine, Absolut Elyx, Old Raj gin, plus a seaweed-infused gin from Edinburgh that gives the drink a savory note.
Photo Credit: NoMad Bar
Your most memorable drink experience: Having a martini made by Ago Perrone, the Connaught Bar's master mixologist, served from their martini trolley.
Rarest drink experience: A Sazerac with a pre-phylloxera cognac dating to the 1800s, at the Salvatore Calabrese Bar (now closed) at the Playboy Club in London. The difference in flavor was incredible.
Big cocktail trends for 2017: Seasonal, savory cocktails. More and more bartenders are learning from what chefs are doing in the kitchen and are considering ingredients carefully, understanding their effects within drinks and how to use them in the best possible way.
THE BOWERY HOTEL
Josh Demarco, co-head mixologist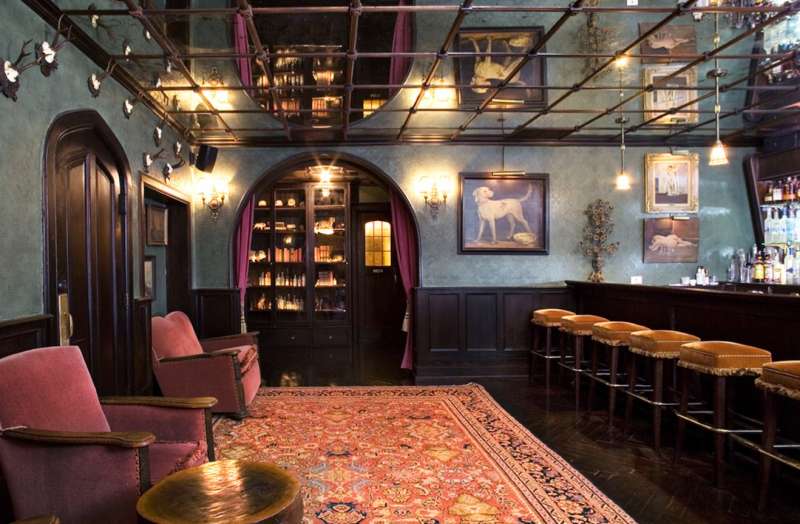 Photo Credit: Gregory Goode
Most popular luxury drink at the Bowery Hotel: Our Elit martini is made very simply and classically using Stoli Elit vodka and garnished with cornichon stuffed olives. From time to time, we like to feature drinks using a spirit or ingredient that is rarely seen in cocktails due to its rarity or cost. For example, we have created margaritas and cocktails using Don Julio 1942, Hennessy Paradis, Glenlivet 18, Patron Gran Platinum, and Clase Azul Ultra for our guests. As a mixologist, it's a special sensation to make a traditional margarita using a tequila that retails for roughly $2,000 a bottle.
Iconic drink to order at your bar: The Regalo Verde—made with a jalapeño-infused tequila combined with a litany of other ingredients—is a classic on our menu and remains our legacy cocktail along with the Ginger and Spice. If a customer is looking for a seasonal cocktail, I'd recommend a Ginger Fizz or Kentucky Heat from our new fall menu.
Your most memorable luxury drink experience: A champagne toast to Paris on top of the Eiffel Tower on a perfect night this past summer. Beautiful city, beautiful drink, and what a view!
Photo Credit: The Bowery Hotel
Your rarest drink experience: When the Dalmore introduced its King Alexander edition, I was lucky enough to attend a small industry-focused tasting that went through the Dalmore 12, 15, Cigar Malt, 18, the King Alexander, and a small glass of a 58-year-old single-malt edition that was an amazing (flavor) combination of caramel and coffee, gently sprinkled with sea salt. It was from a bottle that retails for upward of $30,000.
Big cocktail trends for 2017: It will be the year of smoky and spicy. We're seeing a huge demand for cocktails with a little heat in them. We've had a lot of success with jalapeño- infused ingredients, ranging from tequilas to teas. I've also seen an increased demand for mescal and mescal-based drinks. In terms of spice, ginger beer is bigger than ever, especially when you're combining it with a product that has some kick to it. In certain crowds, the Moscow Mule is practically the new vodka soda. Almost every spirit can be substituted for vodka in a Mule.
CASA LEVER
Alex Berlingeri, corporate beverage
director, SA Hospitality Group
Photo Credit: Casa Lever
Most popular luxury drink at Casa Lever: Our Modern Martini is a classic. I tend to be a purist when it comes to drinks and don't like to use expensive liquor in a cocktail unless I can actually taste that liquor in it. That said, we make the Modern Martini with Stoli Elite, Carpano Bianco, and grapefruit bitters, because the Stoli Elite is complemented and not masked by the simple ingredients.
Iconic drink to order at Casa Lever: We have an amazing spiced pear cocktail. We take Mayfair gin, our house-made spiced pear syrup, lemon juice, pear grappa, add an egg white, and serve it in a coupe glass. It's amazingly refreshing but also reminiscent of fall with the spiced pear. Definitely something you can drink lots of.
Photo Credit: Casa Lever
Most memorable luxury drink experience: I once had a meeting with a cognac producer who was showing me an XO cognac as our espresso arrived. After tasting and drinking his espresso, he took the remaining cognac, poured it into his coffee, then swirled and drank it. He saw that I was visibly shocked that he would take such an incredible spirit and cover its taste with coffee, and asked me to try it. I was amazed at how the expression of the spirit was still present, but now with added layers of coffee blended in.
Your rarest drink experience: One of my favorite things to do is go to a bar with a reputation for crafted cocktails and watch the bartenders. I ask the bartender who exhibits the most care to make me a special cocktail that's not on the list. I know I've picked the right bartender if they're excited about my request. I have tried some amazing, unique cocktails as a result.
Big cocktail trends for 2017: Bourbon cocktails. Many people want to like bourbon, but can't drink it straight. When we blend bourbon in cocktails to smooth it out, we have seen an increase in sales. Great combos for bourbon are fig, apple cider, honey, and lime. We are also seeing a bigger push for fresh ingredients, fresh juices, and homemade syrups.
HARRY CIPRIANI
New York
Luca Rastelli, head bartender
Photo Credit: Harry Cipriani New York
Most popular luxury drinks at Harry Cipriani 
New York:  The classics—our signature martini in short glasses, the Stinger, the Bull Shot, and more recent drinks like the refreshing Mr. C cocktail (from Mr. C Beverly Hills, made with prosecco, vodka, and fresh nectarine juice) and the Señor Masaryk, a tequila-and-grapefruit-based drink popular at our Cipriani restaurant in Mexico City.
Iconic drink to order at your bar: Of course a real bellini, made with white peach puree and Cipriani prosecco.
Your favorite luxury drink: I embrace the Cipriani philosophy of luxury in simplicity. A very icy, dry, undiluted martini makes me very happy.
Photo Credit: Harry Cipriani New York
Your most memorable drink experience: I really love the Bull Shot, made with fresh, homemade beef consommé, vodka, Worcestershire sauce, Tabasco, salt, pepper, and lemon juice.
Big cocktail trends for 2017: Cipriani is not about trends, but rather about timeless tastes that are still good years later.
THE LIVING ROOM,
the Park hyatt New York
Johan Hagstrom, mixologist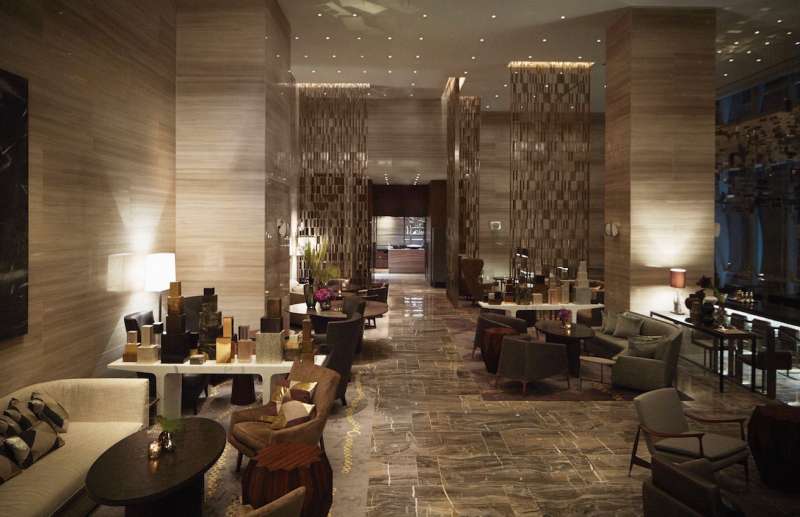 Photo Credit: Park Hyatt New York
Most popular luxury drink at The Living Room: The premium margaritas using high-end tequilas. The Johnnie Walker Blue Label Old Fashioned and Dom Perignon French 75's are also popular!
Iconic drink to order at your bar: The Park Hyatt G&T: tea-infused gin, bitters, lime juice, and premium tonic water; or the Morning Glory Fizz on our classics list made with Scotch, lemon juice, sugar, egg white, and absinthe.
Photo Credit: Park Hyatt New York
Most memorable luxury drink experience: Sipping on a Vieux Carré from the NoMad hotel Reserve list. Not something I can afford to do every day, but well worth it!
Big cocktail trends for 2017: I hope we will get more into obscure classic cocktails. With today's premium spirits and ingredients, I'm sure there are plenty of better cocktail versions to discover and enjoy.
THE LAMBS CLUB
Brian Van Flandern, award-winning
mixologist and author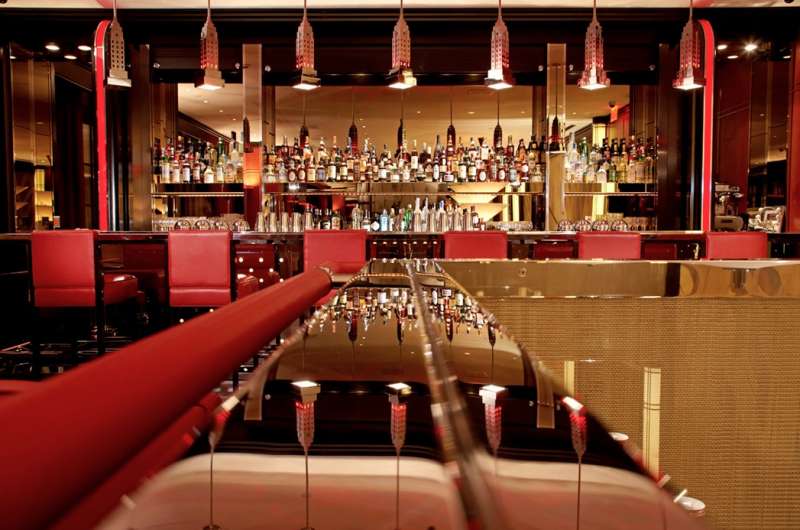 Photo Credit: The Lambs Club
Most popular luxury drink at the Lambs Club: The Last Word, which features green Chartreuse (a liqueur with over 130 different alpine herbs and botanicals), Plymouth gin, maraschino liqueur, fresh lime juice, and simple syrup. But no matter which cocktail you select, it is sure to taste great! The staff at The Lambs Club have all been trained in the art of flavor profiling and mixology.
Iconic drink to order at your bar: The Lambs Club's Gold Rush made with Bulleit bourbon, lemon, and honey. This is one of our best-selling cocktails and has been for years.
Photo Credit: The Lambs Club
The cocktail experiences that have shaped your career: From my early days at Per Se to helping design the cocktail list at The Lambs Club, I have learned from every bar I've visited and every cocktail I've consumed.
Big cocktail trends for 2017: Guests are demanding big ice programs and artisanal spirits from small craft distillers. American whiskey is coming back into vogue on a large scale, and our cocktail program and spirits list reflect this trend.
BEMELMANS BAR, THE CARLYLE
Lori Bodinizzo, bartender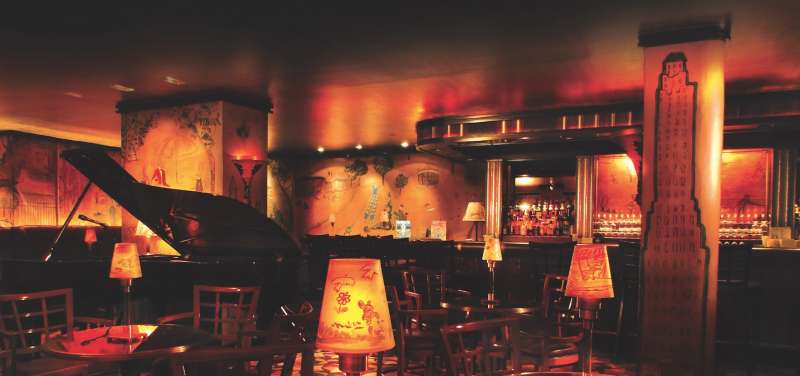 Photo Credit: Bemelmans Bar at The Carlyle
Most popular luxury drink at Bemelmans: The Carlyle Manhattan, made with Bookers Over Proof bourbon, Grand Marnier, Antica sweet vermouth, Angostura bitters, and brandied cherries.
Iconic drink to order at your bar: The Old Cuban is my favorite, but of course you can't go wrong with a classic martini.
Favorite luxury drink: The Luxury Sidecar on our menu, made with Martell Cordon Bleu cognac, Calvados, Cointreau, Grand Marnier, fresh lemon juice, and simple syrup.
Photo Credit: Bemelmans Bar at The Carlyle
Most memorable drink experience: A Burgundy from Domaine de la Romanee-Conti Richebourg. I thought about it for days afterward.
Big cocktail trends for 2017: A continued upswing in the creation and variety of mocktails; bars integrating uncommon herbs in classic drinks. We'll see unexpected uses for sherry, as in our Match Point, a tequila-based drink with Peychaud's Bitters, Tio Pepe Fino Sherry, and a splash of fresh grapefruit.