Photo Credit: Das Stue
Summer is arguably the worst season in San Francisco. The fog is thick, the wind strong, and the temperatures glacial. That's why savvy San Franciscans travel to warmer climes in July and August. We paid a visit to gorgeous Jay Jeffers The Store to ask the men behind it about their haute summer vacay in tony Berlin: celeb interior designer Jeffers himself and his husband, Michael Purdy, the Jeffers director of brand development. We also had the opportunity to speak with style maven Mary Gonsalves Kinney, stylist to the Bay Area's most fashionable denizens, who revealed favorite summer haute spots in London and Paris that are suitable for kids.
DESTINATION: BERLIN
LODGING We spent a night at Das Stue, a beautiful upscale boutique hotel near Zoo Berlin. Then we moved to Soho House, which is a hub of hipster activity with live music, a Cecconi's [Italian restaurant], a Turkish-style hammam, and a rooftop pool with stunning views and a Mediterranean vibe.
LUGGAGE We recently purchased matching Rimowa roller board suitcases. Anybody who knows us might find it hard to believe that not only do we always carry on, even when we're gone for almost 12 days, but we manage to shop and still not check a bag on the way back.
PACKING LIST A light jacket that doubles as a blazer for a dressier evening out. Everything else is kept pretty basic (T-shirts, shorts, jeans, socks, etc.), so we can mix and match. Where we add flare is with accessories—fun shoes, sneakers, and eyewear. One of the best things about traveling together is that we are almost the same size, so we actually have double the wardrobe.
CARRY-ON ESSENTIALS Definitely our noise-isolating headphones by Master & Dynamic, which you can get at Hero Shop, a Tenderloin neighbor of ours. For long-haul flights, we both love our sweats from John Elliott and cashmere socks from Marc Jacobs. Another must is an eye cream from MyBody called Calm After the Storm. It destroys puffy dark circles from dehydration in flight.
TOURIST ATTRACTIONS VISITED Tiergarten [a lush park in the center of the city]. We met friends for lunch in the rooftop dome of the Reichstag building [which houses the Bundestag, or parliament, of unified Germany]. We visited the Hamburger Banhof, originally a train station, where we saw a video installation by Julian Rosefeldt starring Cate Blanchett as 13 different personas on 13 different screens all at once. And we saw Sanssouci Palace, the 17th-century Potsdam summer palace of Frederick the Great [whose military conquests transformed Prussia into a strong military power].
BEST MEAL Hands down, Katz Orange. They specialize in sustainable farm-to-table, super-fresh ingredients from local farms. The chef is famous for his 12-hour slow-cooked meats. A second favorite was Mogg & Melzer, owned by the same restaurant group that owns the famous Pauly Saal restaurant. Mogg serves traditional deli fare, and they make a reuben that is a knockout!
BEST SHOPS The Corner Berlin [for hip menswear]. Soto Berlin men's store in the edgy Mitte district carries brands like Lowther Co., Sacai, and Soulland. Ace + Tate is a cool eyewear shop.
VACATION SOUVENIRS We didn't have anything front of mind when we left for Berlin, but between the two of us, shoes are definitely the addiction. So anytime we travel to a new place, that is at the top of the list. Michael did score an amazing navy biker jacket from Sandro, which was a staple he'd been searching for.
TRANSPORTATION We love renting bikes when we travel. It's a great way to see a city and be able to pause and check places out, rather than pointing to them as you flash past in a car.
CAN'T LEAVE HOME WITHOUT Our portable Jawbone speaker. You can never survive without good music while having the morning coffee or getting ready to go out at night.
FIRST THING YOU DID WHEN YOU GOT HOME Cuddle with our Cavalier King Charles Spaniels, Olive and Kingsley—12 days away is too long! Then we always unpack right away. It might sound crazy, but there is nothing more satisfying than waking up the next morning to a tidy space and knowing you've already checked that off your list.
MARY GONSALVES KINNEY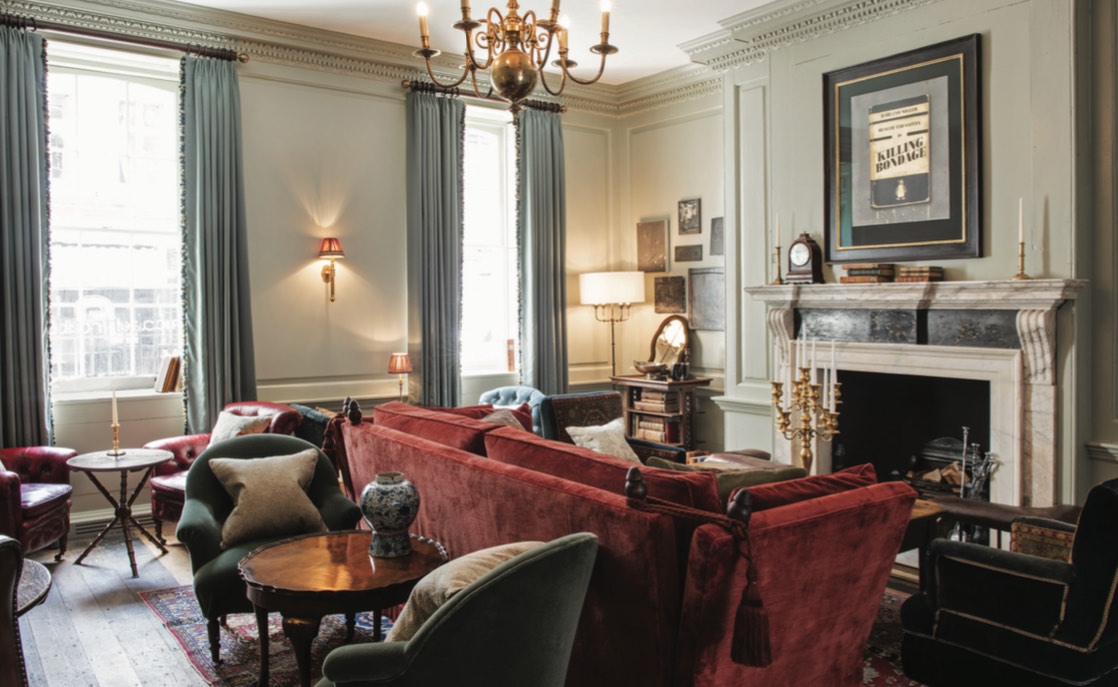 Photo Credit: Soho House
DESTINATION: London and Paris
LODGING Airbnb in Soho, London, and a friend's apartment in Le Marais in Paris.
LUGGAGE We carry personalized Tumi. I like the space and multiple size options. With three kids, a husband (powerhouse political consultant Jason Kinney) and a stylist's wardrobe, we need lots of options!
PACKING LIST What didn't I pack? At least two to three jacket options. A Miu Miu metallic heel because it goes with everything. Marni separates that are drapey and breathe well and can transition easily at night for dinner at Soho House with a belt and some baubles. Easy silk dresses, denim shorts, high waisted skirts, white palazzo pants, jumpsuits (because they're easy and instant style), tunics, and caftans.
CARRY-ON ESSENTIALS Skin Laundry sheet face masks (they're the best!), Glossier's Balm Dotcom for lips, vitamin E oil for moisturizing face and hands, a small makeup kit for landing and touch-ups, a Mason Pearson brush, a mini toiletry set, cashmere socks, an eye mask, several Emergen-Cs, Wet Ones, and two Smart waters. And my MacBook Air and its pretty white Goyard case.
TOURIST ATTRACTIONS VISITED I've been to both cities several times, but we had my children this go-round, so we saw Big Ben and rode the London Eye [Ferris wheel]. In Paris, we did the Louvre, the Eiffel Tower, and a riverboat cruise.
BEST MEAL In London, the Chiltern Firehouse. In Paris, Hotel Costes for ambiance and culinary experience.
BEST SHOPS Hermès, Chanel, and vintage!!! Always vintage.
VACATION SOUVENIRS A Birkin [Hermès handbag] and some vintage jewelry. Plus, several Vogues while en route to various cities.
TRANSPORTATION We played it safe and avoided most public transportation this go-round. Lots and lots of Ubers.
CAN'T LEAVE HOME WITHOUT My laptop! There's always work to be done.
FIRST THING YOU DID WHEN YOU RETURNED HOME I got back and immediately started working!
NOW OPEN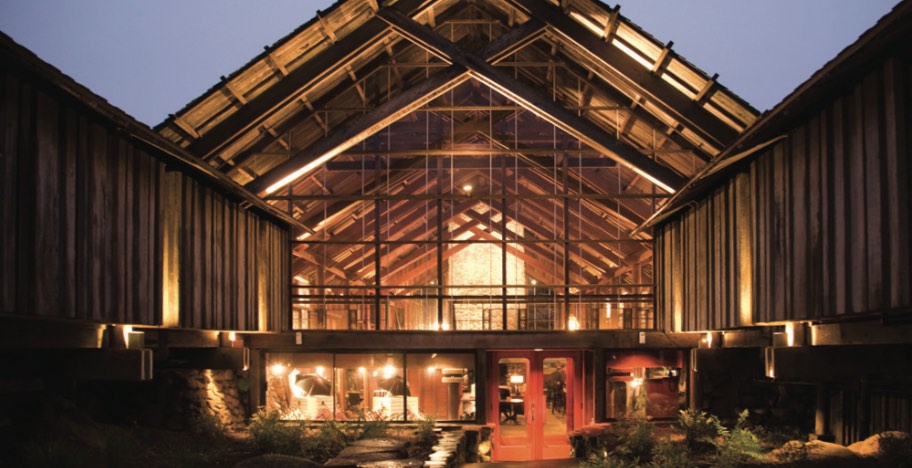 For a quick fall escape, head to one of these recently opened or updated hotels in the Bay Area.
THE HIDEAWAY, CARMEL
Just steps away from the Pacific Ocean, the latest project from the PlumpJack Group is this 24-room, recently redesigned boutique hotel in Carmel-by-the-Sea. There's no better place to relax by a roaring fire with a glass of local wine than at this charming beachside inn.
INDIAN SPRINGS, CALISTOGA
Although Indian Springs has been a wellness destination for more than 100 years, the resort has finally completed an extensive renovation and expansion. With two pools, a sensational restaurant, and a state-of-the-art spa, the 17-acre property is ideal for a family weekend in wine country.
TIMBER COVE, JENNER
Rustic elegance abounds at this 46-room resort on the Sonoma coastline where the redwoods meet the sea. Enjoy endless ocean views, stunning architecture, and fresh seasonal cuisine.