Real estate developer Michael Capponi and successful broker Oren Alexander recently announced the exciting development of a prime Miami Beach property located at 2901 Flamingo Drive. Construction of the sprawling residence was done by Capponi Shear Construction Group, and includes top-grade construction and finishes partners Michael Capponi and Gary Shear have become known for.
The airy, 6,700 square-foot home will not stay on the market for long boasting 6 spacious bedrooms, 7.5 bathrooms, private dock for a 50-foot plus yacht, soaring ceilings, grand formal rooms, divine kosher kitchen, natural light, separate staff quarters, standalone guesthouse/gym, resort-style pool, infinity hot tub and lushly landscaped grounds with a two-car garage.
For an asking price of $6.495 million dollars, the modern estate offers a span of 300 feet of unobstructed water views with its own personal mangroves and spacious green lawns. The interior of the five-star mansion features a striking master bedroom suite with 13-foot ceilings, private sitting room office, three balconies, large walk-in closets, and a master bathroom with a Jacuzzi and "his" and "hers" vanity areas. The property also includes a separate 2-story guesthouse with a master suite, gym and wet bar.
The property defines luxury living in America's Riviera, right in the heart of Miami Beach. The house owner will enjoy a quick three-minute walk to the Atlantic's water edge while passing nearby entities in the surrounding area such as the newly constructed Faena House and Miami Edition Hotel. The area contains some of the highest per square footage real estate sales in the city claiming it as the platinum corridor.
Capponi, president of Capponi Group, views Flamingo Drive as one of the final opportunities to snag a brand new, mid-size estate for just under $1,000 per square foot as nearby condos featuring similar designs have already closed at $3,000 a foot. Capponi notes, "It takes just as long to get in an elevator and go to the beach from a condo, then it does to walk across the footbridge from this estate.
In addition to creating new estates in Miami, Capponi is a co-founder of InList Ap and an avid philanthropist working with the Miami Rescue Mission and committing time, energy, and expertise to helping the people of Haiti redevelop and restore their country.
For more information, please contact The Alexander Team at +1 (786) 510-4457 or oren.alexander@elliman.com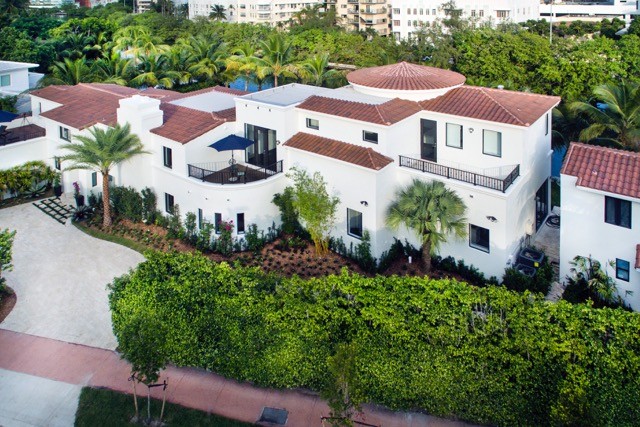 Front Aerial
Main View
Front and Driveway
300 Feet Water Frontage
South East Aerial View
Front Aerial
Grand Room
Living Room
Staircase
Hallway to Master Suite
Master Sitting Room
Master Bedroom
Views From the Master
Master Bathroom
Master Bathroom
East and West Guestsuite
East and West Guest Suite Balcony
Guest Suite Balcony
East Facing Guestroom
West Facing Kidsroom
Kids Bathroom
Guesthouse Gym Sideyard
North East View of Guestroom
Subscribe to discover the best kept secrets in your city