One of the hautest ways to experience an authentic taste of Boston through the eyes of Fenway Park, home of the Boston Red Sox. Located in Kenmore Square, the historic park, aptly named "America's most beloved ballpark," opened on April 20, 1912. Since then, the park has expanded now offer every luxe package imaginable from a Centerfield Batting Practice Package and seats in The Boardroom of the EMC Club to the Green Monster Corner, an all-inclusive Ultimate Deck Package and even an Ultimate Monster Package.
Photo Credit: Kellie Speed
This summer has certainly been a newsworthy one at Fenway. Last month, former Red Sox champion pitcher Pedro Martinez was inducted into the Hall of Fame, designated hitter and three-time World Series champion David Ortiz is having a record breaking year and current Sox President and CEO Larry Lucchino announced he is leaving the team at the end of this season.
Photo Credit: Boston Red Sox
To experience Boston's historic park in style, there are a variety of options available. VIP tours include an opportunity to walk on the field. After the tour, the park's brand new Infiniti Suite, the largest suite near the EMC level, offers some of the best seats in the park. Designed by Infiniti (known for its luxury automobile collection), the luxe rental includes food and beverages, opens two hours prior to game time and can hold up to 45 of your closest friends.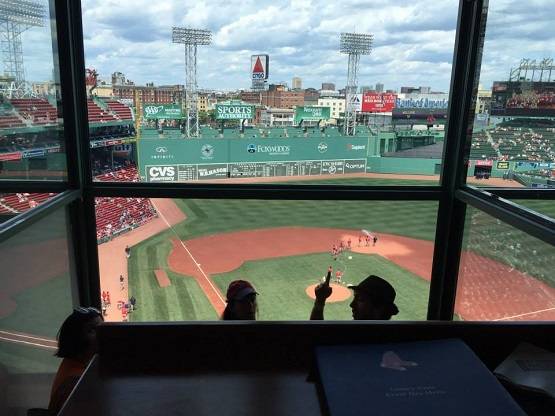 Photo Credit: Kellie Speed
There are four private Pavilion Suites located on the third base side along with three luxury ones on the first base side. Located high atop to the park, each has an indoor and outdoor flat screen TV, food station set up inside the suite and private outdoor balcony. The EMC Club offers one of the most luxe dining experiences at the park. There is a wine bar and a sit-down restaurant (where most players' wives are often seen during the game) with a menu that includes fresh seafood and aged steaks.
Photo Credit: Kellie Speed
For a memorable experience, reserve the Legends Suite located on the lower EMC suite level behind home plate. This suite offers one of the best views in the park for up to 20 guests to check out all of the action while having the chance to meet a Red Sox Legend. Some Hall of Famers who have visited the suite include Dwight Evans, Rico Petrocelli, Jim Rice, Fred Lynn, Jim Lonborg, Carlton Fisk, Dennis Eckersley, Luis Tiant, Bill Lee and Frank Malzone.
Fenway Park is located at 4 Yawkey Way in Boston.