With spring finally here and the summer heat just around the corner, everyone is bustling throughout the city attempting to shed that excess winter body fat, FAST. We had a long winter of oversized, down jackets and hiding away in our apartments cooking up warm comfort food. Now, it's finally time to break out the shorts, sandals and sooner than you think, the bathing suits. Tired of your routine workout at the local gym? Or maybe you're too busy to work out after a long day at the office? Not to worry, read on and uncover the hidden gems of New York City fitness that are sure to get you in the best shape of your life, just in time for swimsuit season.
trampoLEAN
Growing up, who didn't love bouncing on a trampoline in the summer? Now, adults can partake in the thrill of trampoleaning while toning up with a fun, low impact workout. At trampoLEAN, you can train like an athlete while burning between 500-1,000 calories per 50 min class.  Personal trainer Louis Coraggio takes clients through fun routines that change your body and your state of mind for the better. You're in for a unique, entertaining workout experience that keeps you physically engaged in squats, sprints, kicks, lunges, and moves like "raising the roof" or the "fly like a bird." Defy gravity with this one-of-a-kind mini trampoline workout that will leave you sweating and smiling. trampoLEAN classes are available at Dany Studios at 305 West 38th Street and Coraggio will provide the ability to bring trampoLEAN to private homes in the Hamptons beginning Memorial Day weekend. For more information, please visit http://www.trampolean.nyc
The Monster Cycle + Studio
The Monster Cycle is a new, dark, visual fitness experience that's far more thrilling than your average spin class at the gym. What other workout puts you in total darkness, allowing you to forget the world and focus on the task at hand?  At The Monster Cycle, the only light emitted is from the giant flat screens illuminating your instructor while you cycle to the beat of the most popular music videos and obscure songs you'll want to download the next day.  Owners Michael Macneal and Demetre Daskalakis take their loyal followers on theme-rides that rid calories and clear the mind. The Monster Cycle is located at 182 Lafayette Street. Please visit http://themonstercycle.com for more information.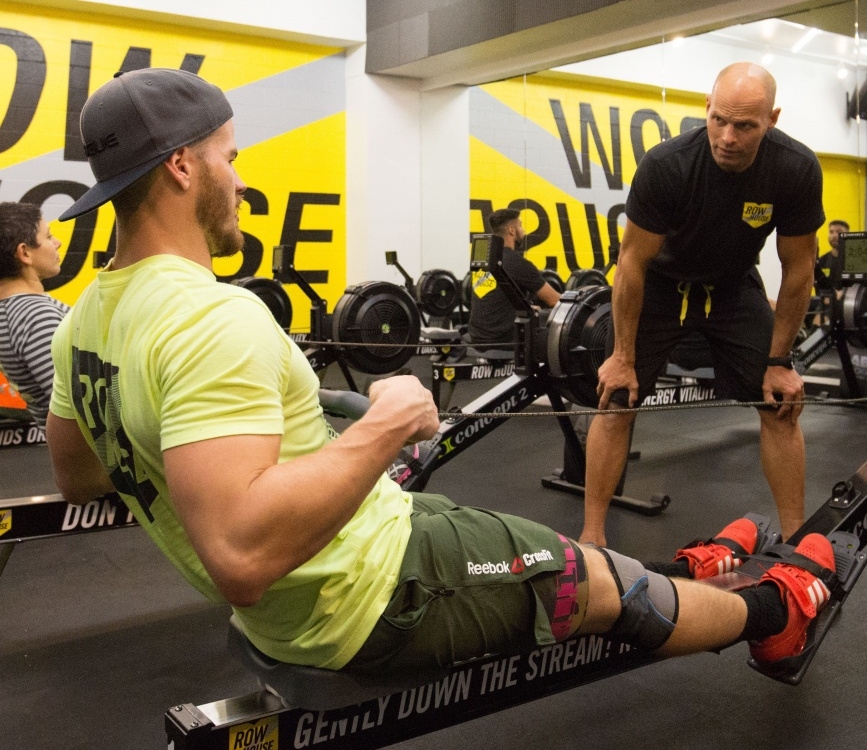 Row House NYC
Looking for a different full body workout? Row House is the perfect place for the inner competitive athlete in all of us. The studio offers a unique experience, holding three different 50-minute, full body workouts where participants complete indoor rowing circuits. Get leaner and stronger as a team, rowing to high-energy music in a fun, friendly environment suitable for all levels of fitness. Row House has two locations, at 555 W 59th Street and 406 E. 91st Street. For more information on how to get your row on, visit http://www.rowhousenyc.com
Physique57
You'll be satisfied with how quickly your shape shifts after experiencing Physique57. All it takes to reach a margin of self-improvement is eight classes. This unique workout routine utilizes the weight of your own body as your resistance; referred to as "Interval Overload." Sounds intense, but you can handle it! This workout takes interval sets to a new level of intensity. It's not a simple workout, but it's one that will lead you to beautiful, lean arms, thighs, gluts and abs. Physique57 has multiple locations throughout NYC and you can check out http://physique57.com for more information.
New York Yoga
Wind down, decompress and tone up at New York Yoga this spring.  There's a yoga option for everyone at New York Yoga with an array of diverse classes to partake in such as relaxing Restorative Yoga, strengthening, calming Vinyasa Yoga, and the ever-popular Hot Yoga. Studios are located at 1629 York Ave 86th Street and you can also sweat it out at 132 E. 85th Street. For more information on classes and yoga practices visit http://www.newyorkyoga.com