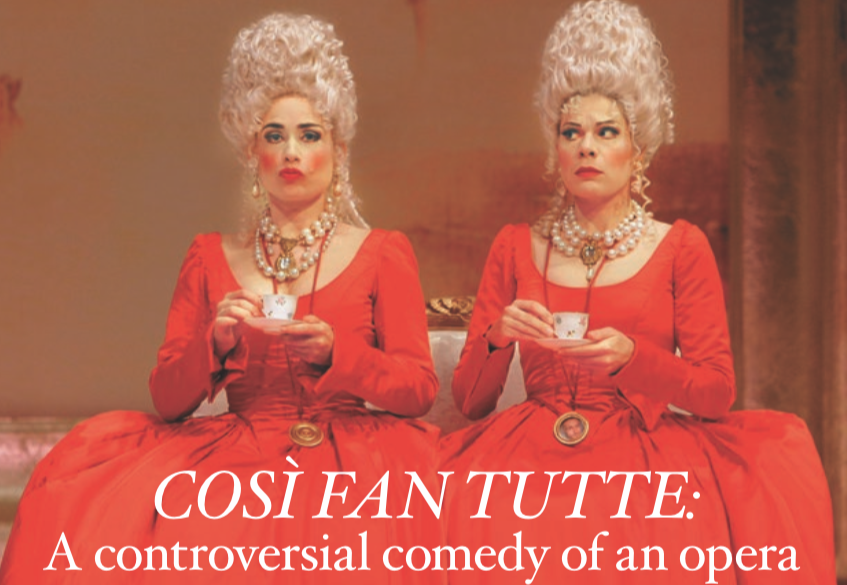 IT'S SAFE TO SAY THAT OPERA HASN'T ALWAYS BEEN KIND to the fairer sex. Most operas we know and love usually portray women in only one the following character roles: the naïve love interest, the seductress, the mother, or the shrew. And let's not forget that when opera was in its infancy, women weren't even allowed to perform on stage – castrated men in drag were instead used to sing the roles containing high notes. Thankfully many opera companies, like Florida Grand Opera (FGO), are actively working to produce contemporary operas that embrace more forward- thinking gender roles, so it may seem against type that FGO has chosen to perform the highly controversial opera Così fan tutte, which will come to Miami this January. It's not.
Così fan tutte was the third and final collaboration of composer Mozart and librettist Da Ponte, following T he M arriage of F igaro and Don Giovanni. The title of the show loosely translates to "All women are like that" (read: fickle). The opera tells the story of two young army officers who place a bet with their older and "wiser" friend, hoping to prove that their fiancées will remain faithful to them under any circumstances.
The men trick their lovers by pretending to ship off to war, but immediately return disguised as passionate strangers set on wooing the girls. For the women,
innocent flirtation quickly escalates into head-over-heels infatuation with each other's fiancé, and before the day is over, both couples have signed a wedding contract with their new suitors. By the time the curtain comes down, all is exposed and all is forgiven.
If you finish the opera feeling a bit unsettled, you've gotten the point. This opera frequently incites lively post-performance debates, and labels of misogyny and mean-spiritedness have become attached to this curious story. The problem is that Mozart and Da Ponte were too brilliant to have intended for this opera to be taken at face value. There are simply too many clues in the music that suggest otherwise. Doesn't it seem unlikely that these two women wouldn't recognize their fiancés, even in disguises? What if the girls recognized their disguised lovers the entire time and were playing a game with them? Are there other possible motives for knowingly going after the other's fiancé?
Florida Grand Opera wants its audiences to decide for themselves. Così fan tutte is one of the key monuments of western musical culture: full of Mozart's finest music, a deeply complex yet comedic storyline, and well worth a visit!
Playing at the Florida Grand Opera at the Adrienne Arsht Center for the Performing Arts on January 24, 25, 27, 30 and 31st. Please visit FGO.org or call (800) 741-1010
Subscribe to discover the best kept secrets in your city