FROM HER BRIGHT CONNECTICUT STUDIO, PHILANTHROPIC ARTIST CONNIE Silver is sketching plans for her next piece. To the casual observer, she's just a contented artist in her studio planning her next colorful creation, but there is so much more to both her and her artwork than meets the eye.
Connie Silver, who signs her art "C. McSilver," is not just an artist; she's also a social worker who donates 100% of the proceeds from the sale of her artwork to college scholarship funds—augmenting the $50 million donation she and her husband, Martin Silver, made to New York University's Silver School of Social Work in 2007.
"We believe that the only thing that will ever change this world is education," she says of the donation that broke records for being the largest private gift to a school of social work. "There are some wonderfully talented, terrific kids are out there who could not possibly go to school if it wasn't for these scholarships."
As far back as she can remember, Silver has been helping others. It began in first grade when she often shared her lunch with a hungry, impoverished girl in her class. Her teacher called her "my little social worker," a moniker Silver has spent her life living up to, earning her PhD in social work at NYU, then going on not only to practice, but also teach the subject to others for more than 20 years.
She did once stray from that path, taking to a career in the sky, which led her to meet Martin, her husband of 55 years. "Back then, the boys from the Bronx had figured out the way to meet girls was to hang around the stewardess school I was attending," she says with a laugh, recalling the scene in the mid-1950s. It worked, and they have since enjoyed a long and happy marriage. On the longevity of their relationship, she says, "The secret is to marry someone really nice," admitting that his "kick-ass sense of humor" helps, too.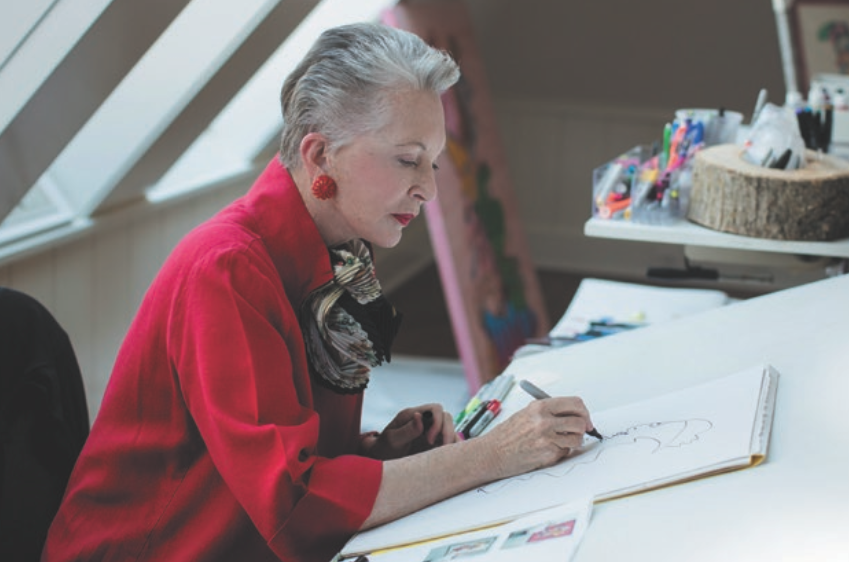 Silver's social work career began in earnest in the early 1980s, at the height of the AIDS epidemic. "There was no name for it," she says. "They called it 'the gay disease,'" she says, pausing. "Every single one of my clients died." The tragedies were often compounded when her patients were evicted, lost their jobs, and were abandoned by their families, who didn't understand how the virus was transmitted. Silver likens the AIDS frenzy with what is happening today with Ebola. "There are ways to keep it at bay safely; these people are not lepers," she adds.
Silver studied art with greats like Will Barnet and Frank Joseph Riley. "Frank Riley is an absolute realist, which I am not obviously. But you learn the basics from someone like that," she says. She eventually started creating colorful art exuding a range of emotions, inspired by life and her patients.
"I try to have [the subjects] in my art appear in a humorous way so everyone can smile when they look at the work. But some of the pieces that appear to be great fun are not because they tell stories to me. As a psychoanalyst, I've heard some very sad tales, and sometimes when I look at them, I feel sad because I know the [real] story behind the pieces."
Laughter is still the best medicine for Silver, who seeks to illicit smiles with her art. "In social work, if I can get people to smile and laugh, that's the most important to me. Humor heals the soul," she says.
In addition to her residences in Connecticut, New York, and Maine, Silver also has a spectacular home in Indian Creek, where she winters. She would like to get more involved in her home state of Maine, and is already poised to become more involved in the Florida art world. The Frost Museum of Art has just acquired her piece "Split Personality," and Florida International University's College of Architecture has chosen one of her a 10-foot sculptures to be featured in its garden
In spite of her high societal status, Silver is extremely low-key and down-to- earth. "I have been in the company of all kinds of people, the absolute poorest of the poor, board members of fancy corporations." Perhaps because of this varied experience, she does not spend her time shopping for Birkin bags and similar goods that other individuals in her tax bracket covet. "I understand the importance of [owning those things], and the lack of importance."
One thing she does enjoy? Food. "Last night we had a wonderful Mexican take out. I love to get to Miami to hit the Cuban food. I enjoy eating… even more now. I have to watch that one," she says with a laugh.
Subscribe to discover the best kept secrets in your city