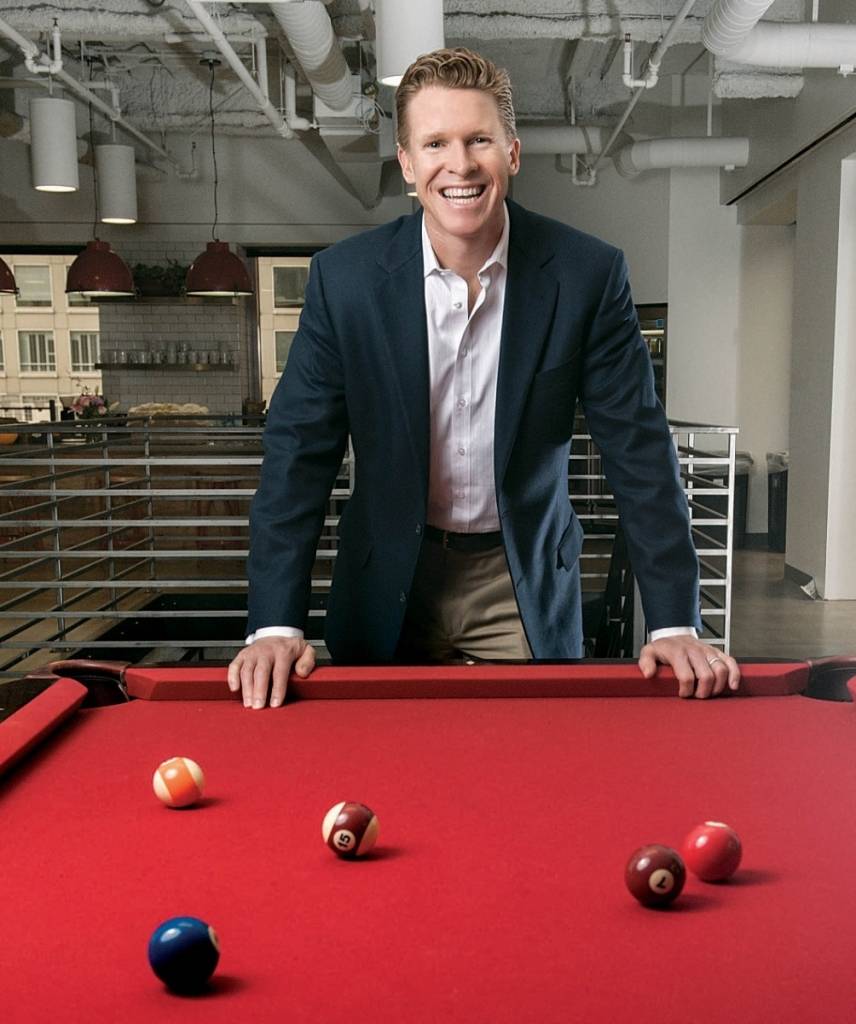 Photo Credit: Jayms Ramirez
Matt Roberts, the president and CEO of the online restaurant dining reservation service opentable, does not eat carbs. Yeah, we know: we didn't believe it either. However, it's the truth: he kicked carbs to the food curb four years ago despite spending most of his day inside a bakery. His willpower is unparalleled.
"Once you get used to [minimizing carbs], it's not that hard [to go without them]," Roberts, a boyish 46-year-old with an infectious grin, promises.
Roberts' self-control, admirable as it is, isn't quite what it appears to be once you realize that "bakery" is actually the name of a glass-doored conference room that doubles as his office at OpenTable's headquarters in downtown San Francisco.
The affable CEO is in his ninth year with the company that dominates online dining reservations. OpenTable, which launched in 1998, has expanded like yeast rising in bread since 2005 when Roberts arrived on the scene as its chief financial officer, a title he held for six years before being promoted to President and CEO in 2011. Since he joined, the company's roster of restaurants has grown from 3000 to over 32,000; it seats a whopping 15 million customers in eateries a month.
Roberts won't take credit for those eye-popping numbers. Remember, this is a man who doesn't even have a dedicated office in the skyscraper OpenTable moved into last year.
"The simplest way to put it is that [OpenTable] solved a problem," says Roberts, who led the company through its initial public offering in 2009. "When you actually can hit that nerve, then the growth just happens."
The problem — and we've all been there — was desperately wanting a last-minute reservation only to find that no tables were available… unless you wanted an early bird special at 5:30 p.m. or a late night 11 p.m. dinner. Making reservations was, quite simply, maddening before OpenTable came along.
Thanks to the website, users can now search for seats by date, time, number in party and by location or eatery name, while the app shows how many feet or miles you are away from the dining establishment. Reviews are deemed credible because only members can submit them after OpenTable confirms they were seated for a meal.
The online service is free for consumers but not for restaurants, who fork over a fee of $1 per patron, which can add up to a tidy monthly sum. Celebrity chef Michael Chiarello, for example, reportedly pays $4,500 a month for OpenTable at Coqueta and $100,000 a year for his über-popular Bottega eatery in Yountville.
OpenTable has a monopoly on the industry, although Yelp co-founder and CEO Jeremy Stoppelman is determined to change that. last year Yelp acquired SeatMe, a tiny San Francisco online reservation service that is much less expensive for restaurants to use than OpenTable but has a long way to go before it finds the kind of success that Roberts' company boasts. For now, OpenTable's main competition is still the old-fashioned kind — the telephone.
"That might sound like, 'Really?' but yeah, it's the phone," he says. "When people are not making reservations online, they're picking up the phone, or they're walking in."
If securing a dining time slot can be called OpenTable's main entrée, keep in mind that there are also appetizers and desserts to be enjoyed, too.
"The team has been really energized about powering great dining experiences," Roberts says. "That's really what happens before you go out to eat, what happens during the meal and what happens after you go out to eat. We're most known for the 'before' part — the discovery, the reviews, the photos, the menus: 'What's the perfect place for me to go to out?' "but during the meal, we typically didn't play an active role. The app was [not used at the restaurant]. With the tremendous growth of mobile, our app is now with the diner during the meal. We've set out to find places where we can add delight or eliminate moments of anxiety during the dining experience."
One of those areas is with Pay with OpenTable, which allows iPhone users to view and pay their checks with a swipe of their phone screen at participating restaurants. The program is underway in San Francisco, New York and Washington, D.C., with plans to expand to 20 markets by years end. Android fans, be patient: your time will come.
"We work closely with Google on a number of initiatives," Roberts says. "We really like some of the guidance they've provided us on how to make a great android app experience. We're looking forward to having Pay come soon to android as well."
OpenTable recently partnered with Apple Pay, a new mobile payment system that's integrated into Apple's new iPhones allowing consumers to add a credit or debit card to their Apple Pay account and pay with a touch of their smartphone at businesses. Diners who have enabled Apple Pay and book at participating Pay with OpenTable restaurants can simply view their check in the OpenTable iPhone app, select a gratuity amount, settle the check with a single touch and then leave at their pleasure.
"We have a whole roadmap in our head of exciting things that we can do during the meal," promises Roberts.
Another nifty program already in its pilot stage in New York, Los Angeles and Houston is Hot Tables. It works like this: frequent diners can create a wish list of restaurants where reservations are especially hard to come by. When a spot opens, perhaps due to a cancellation, you're notified with a ping; you then have mere minutes to grab that booking.
Roberts also envisions OpenTable users creating a digital dining diary where they can record what restaurant they went to, what they ate and what their friends ate. Restaurant-generated audio and video as well as OpenTable making recommendations to diners based on their eating history are just two more ways he'd like to add to his company's offerings.
Given all that he and his team have in the works, Roberts' plate is clearly full. The red-haired leader hasn't bitten off more than he can chew, though. Instead, he's excited about transforming the way we use OpenTable.
"I'm most proud of leading an expansion of the mandate for the company to be a dining experience company versus what we're most known for — which I'm very proud of — which is a transaction company," he says.
Over the years, Roberts has gleaned business advice from Danny Meyer, the New York City restaurateur and CEO of the Union Square Hospitality Group, whose popular restaurants include Gramercy Tavern and Shake Shack.
"Danny Meyer says, 'Everybody goes through life with a big sandwich board on [that says] I want to feel important. Hospitality is really the art of acknowledging that need without being obvious you're acknowledging that need.' "
Meyer has impressed Roberts since the days when he sat on OpenTable's now-defunct board. In typical fashion after an acquisition, Priceline paid $2.6 billion for OpenTable in June and the board, thus, was dissolved. For his part, Roberts is excited about working with the travel giant.
"They're truly a global company," Roberts says of his parent company. "While we're in six countries (Canada, Germany, Japan, Mexico and the United Kingdom are the others) today, we have aspirations to be in many, many more countries in the future now that we have people we can really learn from."
For Roberts, the merging of companies known for travel and food is a natural fit; the two go hand-in-hand.
"When [my wife] Katie and I go on vacation, the first thing we do after we have a big old breakfast is think about what we're going to have for lunch, and then what we're going to have for dinner."
That shouldn't be a problem. Roberts is a man who truly knows how to find an open table.
Like Haute Living San Francisco? Join our Facebook page or follow us on Twitter @HauteLivingMag. Want Haute Living San Francisco delivered to your inbox once a week? Sign up for our newsletter.
Subscribe to discover the best kept secrets in your city