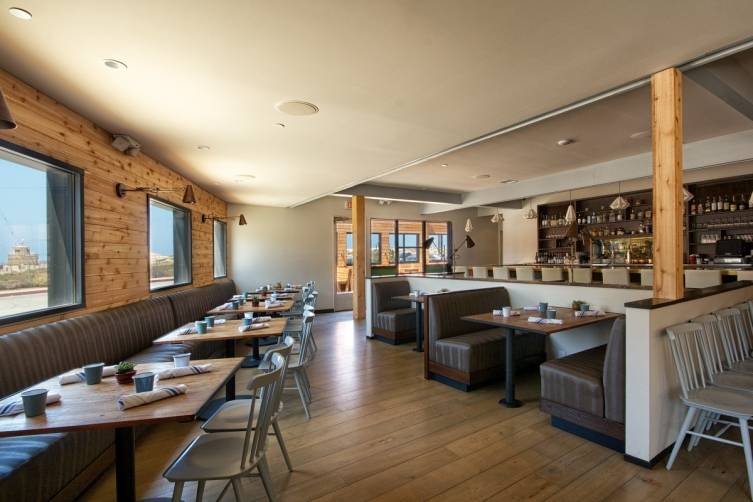 Photo Credit: Ryan Tanaka
Brooke Williamson and Nick Roberts wanted to bring something new to the beach, and thus, their third restaurant, Playa Provisions, was born. Their innovative idea: bringing four unique culinary concepts together in one 7,000 square foot seaside complex. Let us say, they've succeeded in bringing the cool back to Playa del Rey.
Their four concepts include Dockside, a high-end dining space dedicated to seafood; King Beach, a market counter serving seasonal salads and sandwiches (ideal for a beach picnic); Small Batch, an ice cream shop featuring house-made, artisanal ice creams and desserts; and Grain, an intimate whiskey bar.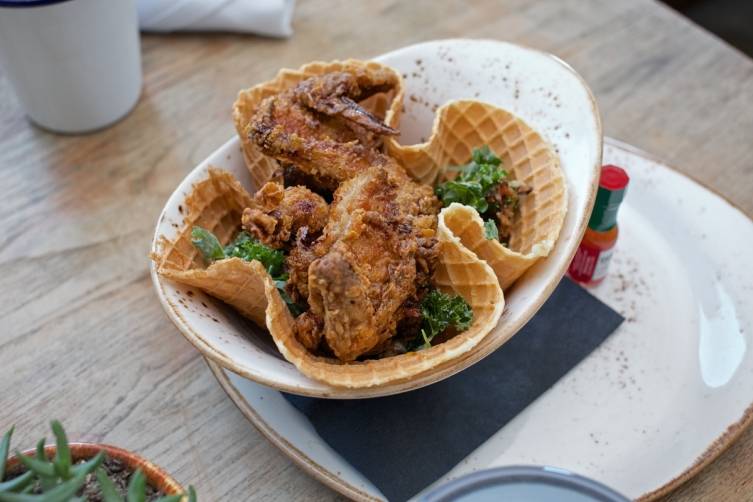 Photo Credit: Ryan Tanaka
At Dockside, expect to find seafood and comfort food from the "Top Chef" alum'. The menu is East Coast inspired, from its selection of Long Island oysters to a lobster roll with pickled mustard seed, celery and crushed potato chips to the dungeness crab mac and cheese to the salt cod clam chowder with braised bacon, served in a sourdough bowl.
Mary's organic whole boneless brick roasted chicken breast was one of the best chicken dishes we have ever tasted. This dish is exquisitely prepared and melts in your mouth. It is so subtly flavored with grilled stone fruit, herbs, lemon and a roasted garlic spread that you'll still be questioning "why" and "what" after you've polished off every last bite. Also make sure to order up the sinfully decadent side of cheesy stone ground grits with vinegar cooked collard greens, soft cooked egg and crispy red onions.
On the boozy side, we adore the kitschy and Prohibition era style cocktail the Bees Knees: a mixture of gin, lemon, Tupelo honey and hibiscus. We highly advise you save room for dessert, as the warm chocolate chip cookies—served with some very adult bourbon milk—are a must. If you're still craving sweets, also order up the brioche donuts, which are delivered warm out of the oven.
In addition the great fare you'll find here, you're also going to love the space. Everything is completely beach chic, from the brass bar, to the large fish tank to the light, airy natural woods to the quirky light fixtures. The high-end leather seating with outdoor fire pits completely complement the décor of Dockside, while dark wood and down lighting gives Grain an intimately cool vibe.
Best of all, this is a one stop shop for so many things. You'll find a gourmet dining experience, a homemade oatmeal cookie with toasted marshmallow ice cream sandwich, 55 types of whiskey and a delightful cream of wheat and quinoa with honey and berries for breakfast all in one place. Like its name suggests, Playa Provisions provides everything you're seeking—and more.
Like Haute Living Los Angeles? Join our Facebook page or follow us on Twitter @HauteLivingMag.
Subscribe to discover the best kept secrets in your city