Haute Scene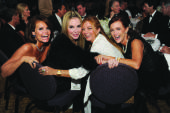 The 2012 Voices for Children Foundation "Be a Voice, Build a Dream" Gala at Manda…

Spring/Summer 2012 Etro Fashion Show Presented by Saks Fifth Avenue and Haute Liv…

Audemars Piguet Global Brand Ambassador LeBron James Makes Appearance at Celine D…
More from the magazine
Haute Ambassadors
Spring Into Charity

Haute Ambassadors
UNDER THE SEA
Haute Ambassadors
Beau Hequin, of Morays Jewelers in Miami, Gives his Favorite Diving Watches on th…

That's Haute
Rik Rak expands its luxury salon with a luxe café bar and terrace.

Day in the Life
Come Sail Away

Cuisine
A rare look inside the steakhouses that are serving it up, well done.

Haute Partners
Chef Frederic Joulin on his newest culinary adventure Villa Mayfair and his quest…

Haute Timepieces
Ten timepieces to make your heart beat faster than a 30-second tourbillon.