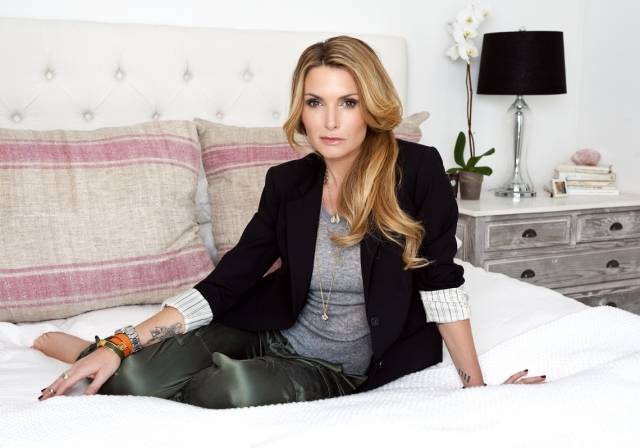 This week we've featured the haute secrets of Eden Sassoon, who realized her career in health and beauty through one very influential figure: her father, hair guru Vidal Sassoon. Eden is the owner of EDEN by Eden Sassoon Finishing Studio in Los Angeles as well as the owner of popular Beverly Hills pilates studio, Pilates Plus by Eden Sassoon. But back to her true passion: hair. Eden's father revolutionized the beauty industry by creating a new standard for hair care in the 1960's.  His goal was to make women's true, individual beauty shine.  Over 50 years later, Eden has invigorated the family legacy by modernizing a contemporary salon experience to offer women's personalized beauty needs including hair, nail, make-up and lash treatments under one roof with exemplary service and efficiency.  The result is an unparalleled finishing studio: EDEN by Eden Sassoon. The idea for her own den of beauty was formed three years ago when Sassoon, a mother of two, gave thought to the constant scheduling, time commitment and cost it took to get her hair, nails, makeup and lashes applied all at different locations.  She envisioned an easier way for women juggling careers, family, friends and social events with limited time to get from A to Z. Hence, her legacy was born. Here is this beauty guru's insider's guide to the CIty of Angels.
Like Haute Living Los Angeles? Join our Facebook page or follow us on Twitter @HauteLivingMag.
Where were you born ?
NYC Manhattan
How long in Los angeles:
39.5 years
Occupation:
Owner of Eden by Sassoon Finishing Studio and Pilates Plus by Eden Sassoon
Favorite Restaurant:
Porta Villa
Best Sushi:
Kwami in Studio City
Best Italian:
E Baldi in Beverly Hills
Best dessert:
Sweet Lady Jane Berry Cake
Best place for a romantic date:
Pace
Best Sunday brunch:
Nate and Al's
Best place for a power business meeting:
Four Seasons Beverly Hills
If you have out of town guests, which hotel would you recommend?
Sunset Marquis
Favorite shopping venue/boutique:
Neiman Marcus
Best place to buy Jewelry/Watches:
Cartier
Favorite Charity Event:
Thirst Project Gala
Favorite Cultural Event:
LA Philharmonic
Favorite Cultural Institution:
The Geffen Playhouse
Best Lunch:
Caffe Primo Quinoa Salad with baked Salmon
Best Gym/Athletic Facility:
Pilates Plus By Eden Sassoon or Easton Gym
Best Massage:
Carino massage therapist Johnny Ray
Best Limousine/Driving Service:
PML Platinum Transportation 310-770- 2483 Gary Toroysan is the best DRIVER!!!!!!!!!!
Best Museum/Exhibit:
Museum of Tolerance : Devoted to Combatting Prejudice
Favorite historic/legendary place to see or explore:
Hollywood Forever cemetery and watch a movie
Describe your city in three words:
Cultural, City of Hope and Possibility and Health Conscious
All-around favorite locale in Los Angeles, whether a neighborhood, restaurant, venue, or other
Fryman Canyon: One with Nature!
Best aspect of Los Angeles
Angelenos of course.... Find a local and you'll find the true heart of LA
MORE HAUTE SECRETS

Fatal error: Call to undefined function related_posts() in /home/hautel5/public_html/wp-content/themes/haute-living-2014/single-haute-secrets.php on line 83