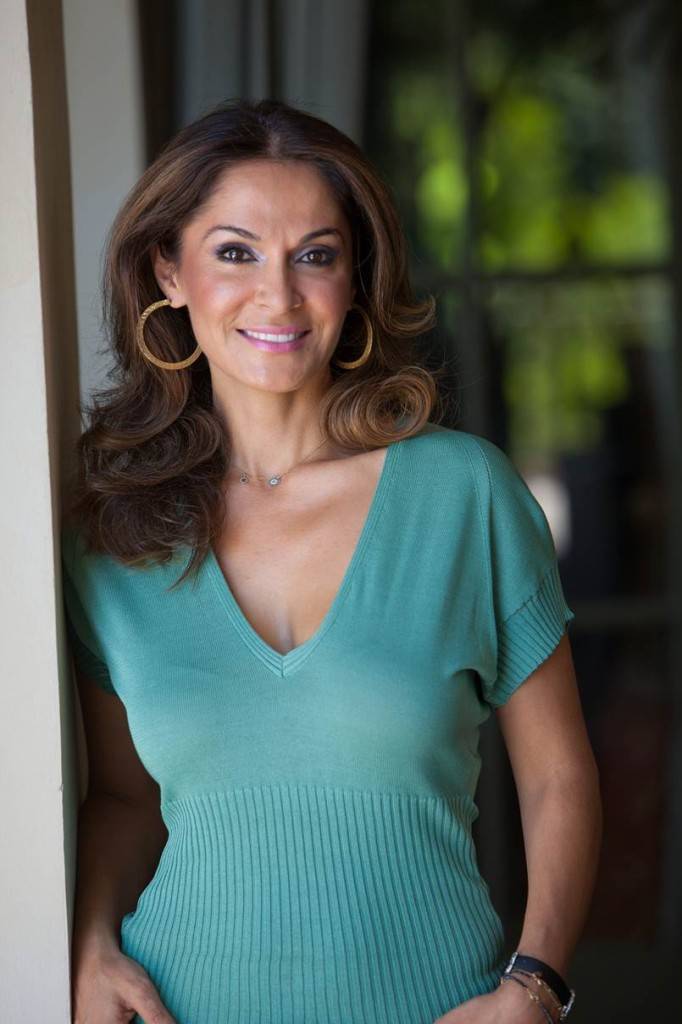 This week Angella Nazarian shares her haute secrets with Haute Living. Nazarian, is a former psychologist, noted speaker and bestselling author of "Pioneers of the Possible: Celebrating Visionary Women of the World" and "Life as a Visitor". Nazarian is committed to the development and success of women in all arenas. She has served on the Board of Directors for the Graduate School of Education and Information Studies at UCLA and on the Board of Trustees at Brentwood School. She is also the co-founder of WOMEN A.R.E., a women's leadership organization, which brings together some of the most accomplished and influential women leaders with diverse, events and salons to share their experiences and to discuss initiatives that advance the roles of women and directly impact them.  The next WOMEN A.R.E. summit will take place in LA next Thursday and will feature speakers such as Sharon Stone, Abigail Disney, Chef Lorena Garcia, One Kings Lane's Alison Pincus and Ann Philbin  Here is Angella's insider's guide to the City of Angels.
Like Haute Living Los Angeles? Join our Facebook page or follow us on Twitter @HauteLivingMag.
Where were you born ?
Tehran, Iran
How long in Los angeles:
35 years this December
Neighborhood:
Bel Air, California
Occupation:
Writer and Speaker
Favorite Restaurant:
Capo – it has the freshest ingredients, a wood burning oven and a great ambience.
Best Sushi:
Katsuya. The baked crab roll is my all-time favorite.
Best Italian:
Madeo's. My all time favorite is their spaghetti bolognse is divine!
Best dessert:
Lady M Café – Mille Crepes Cake – it is a work of art.
Best place for a romantic date:
Bel Air Hotel restaurant, seated outdoor alcoves.
Best Sunday brunch:
I love Tres by Jose Andres at SLS. Beyond the artfully displayed caviar and cured meats, the Philippe Starck designed restaurant and surrounding hotel is modern, yet warm and intimate in a way that made it the perfect site for the first WOMEN A.R.E. Summit.
Best place for a power business meeting:
Polo Lounge
If you have out of town guests, which hotel would you recommend?
The SLS Hotel Beverly Hills or the Beverly Hills Hotel with all of its history.
Favorite shopping venue/boutique:
Net-A-Porter -- they have some of the most stylish collections right at my finger tips. I also like Satine.
Favorite Charity Event:
Of course I am so proud of the work that Looking Beyond is doing for children with special needs, and their luncheons are so inspiring.
Favorite Cultural Event:
Hollywood Bowl and LA Phil Harmonic opening gala!
Favorite Cultural Institution:
LACMA. It really strives to include all kinds of art from various periods, and The Hammer
Best Steakhouse:
BLT at Sunset Plaza
Best Pizza:
Mozza Pizza, Funghi Misti Pizza
Best Gym/Athletic Facility:
I don't belong to one
Best Massage:
The Peninsula Spa has a great deep tissue massage
Best Museum/Exhibit:
LACMA's "IN WONDERLAND: THE SURREALIST ADVENTURES OF WOMEN ARTISTS IN MEXICO AND THE UNITED STATES". I got to stand if front of my favorite Frida Kahlo painting that I showcased in my book "Pioneers of the Possible: Celebrating Visionary Women of the World"
Favorite historic/legendary place to see or explore:
Griffith Park Observatory. It has great hiking trails all around it too
All-around favorite locale in Los Angeles, whether a neighborhood, restaurant, venue, or other
Paradise Cove
Best aspect of Los Angeles
The ocean, the sunshine and the diversity of the people who live here
MORE HAUTE SECRETS

Fatal error: Call to undefined function related_posts() in /home/hautel5/public_html/wp-content/themes/haute-living-2014/single-haute-secrets.php on line 83