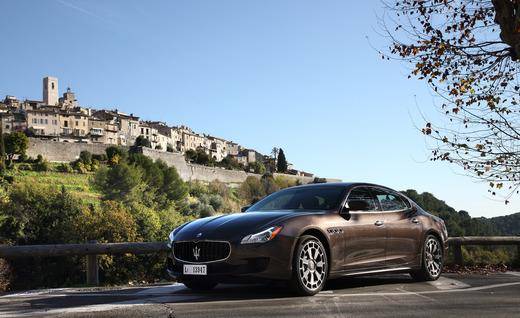 Images: www.caranddriver.com
The new 2014 Maserati Quattroporte made its South Florida debut yesterday at The Collection in Coral Gables, following the official unveiling in January at the 2013 North American International Auto Show in Detroit.
The larger, lighter and faster model of Maserati's renowned Quattroporte, the flagship of the Maserati product range, comes with an all-new, Maserati Powertrain-designed 3.8-litre, twin turbo V8 and 3.0-litre, twin turbo V6 engines. It features a 191 mph top speed and is as fast as most two-door sports cars, reaching 60 mph in 4.6 seconds.
As the sixth-generation Quattroporte, the 2014 model is said to "set the high-technology tone for Maserati's upcoming range of new models." According to a press statement, it also has "improved both its fuel consumption and emissions by 20 percent over the outgoing Quattroporte."
The cabin has been augmented with additional interior space in all seats and both four- and five-seat layouts are available, including work space and entertainment options. The new model also includes the 8.4" Maserati Touch Control screen, adjustable pedals, reverse cameras, an optional 15-speaker, 1280 Watt Bowers & Wilkins audio system, and WLAN-based WiFi. 
Maserati sold 6,307 cars worldwide in 2012, a 2.2 percent growth over 2011.
Like Haute Living Miami? Join our Facebook page or follow us on Twitter @HauteLivingFL. Want Haute Living Miami delivered to your inbox once a week? Sign up for our newsletter.