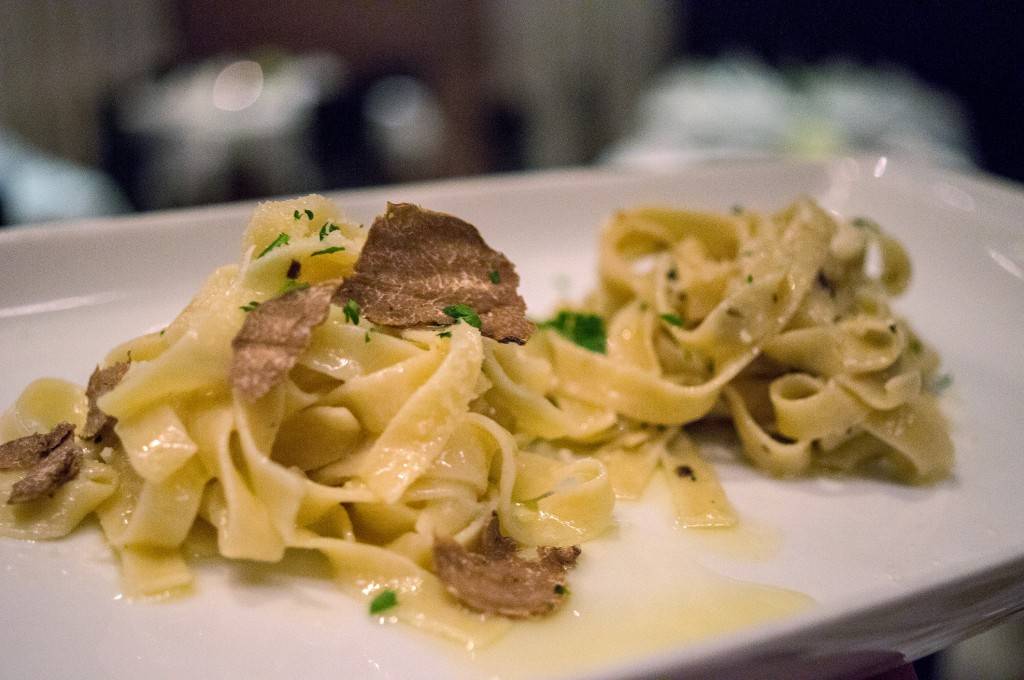 They say that timing is everything. Of this, most would agree.
Timing actually could be the difference between kicking your shoes off, staying at home and watching TV or putting on some lipstick, a pair of high heels and stepping out to serendipitously meet the man of your dreams. It can be about buying a losing lottery ticket, balling it up and throwing it in the trash or buying a winning one and gaining your pot of gold.
It's all about timing and a smattering of good luck.
Now for argument's sake, let's take that fortune that you just won thanks to good timing, and let's picture all of the spoils that you can now treat yourself to. The possibilities are endless. A brand new Lamborghini? A trip to exotic Fiji? Or if you're more into instant gratification, perhaps an extravagant over the top meal would tide you over quite nicely.
Enter the 26,000 Truffle dinner offered at Le Castagne restaurant in Philadelphia: This indeed, circles back to the "timing is everything" theory in its own right. Anthony Masapollo, managing partner of Le Castagne explains why.
"Timing is critical when it comes to food preparation, especially when working with rare delicacy items such as the seasonal truffle. Timing factors in from the harvesting of the Italian truffles (the most expensive food in the world) to the cooking of them."
With all of this considered, this restaurateur in conjunction with his lifelong friend and consultant Joseph Preston and the Executive Chef of Le Castagne Michael DeLone, put together a tasting menu consisting of a nine course dinner, incorporating the esteemed truffle into every single course.
This in and of itself is a wow, but for this clever and talented dream team, it wasn't quite enough.
In keeping with a timing theme and fusing it with Italian authenticity, Le Castagne is offering with its truffle inspired dinner, one of the world's most exclusive Italian time pieces; a rare limited-edition $11,500 47mm Panerai Luminor Submersible 1950 Amagnetic 3 Days Automatic Titanio wristwatch.
As if this hadn't quite tipped the scale already, they threw in a one-on-one full day cooking class with their executive chef Michael DeLone, allowing you the privilege and opportunity to try this at home.
In perusing the menu, mouthwatering courses satisfy discerning diners such as the puree of pumpkin soup with faro almonds, pumpkin oil and white truffles or the beef tartare with marinated pioppini mushrooms, shaved parmesan cheese, quail egg, and white truffle ricotta mousse. Then there's the heartier veal rack, roasted baby potatoes, turnips, bacon, parmesan and shaved white truffle or the roasted quail stuffed with house-made sausage, potato, guanciale and finished with black truffle demi-glace. Every course carefully thought out and delivered with perfection.
The truffle theme is continued well into the sweets and desert portion of this extravagant meal with confectionary selections such as chocolate lava cake with truffle ricotta gelato and honey.
Include a wine pairing with each course from the world-renowned Antinori Estates and you have a meal of a lifetime.
If in fact, you are looking to enjoy this fabulous truffle meal without all of the accoutrements, they do offer more affordable $700 and $250 packages sans the watch. The menu is available now and will end when the restaurant can no longer procure truffles.
For those of us who dare to dream, appreciate the finer things in life and are feeling ready to break that big fat pink piggy bank, your slice of truffle magic awaits you. After all, sometimes don't you just want to be swept off your feet?