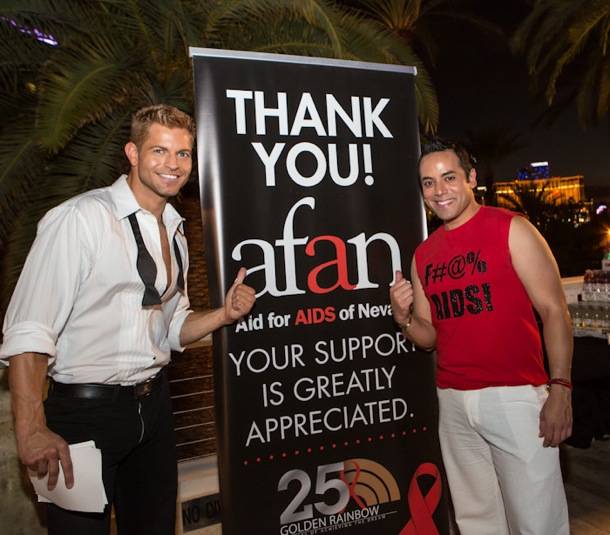 Thousands of supporters, entertainers and celebrities joined Aid for AIDS of Nevada (AFAN) to party for a cause during the 26th annual Black & White Party at Hard Rock Hotel's Nirvana Pool on Saturday night. More than 3,000 guests were treated to an evening of tasty cuisine, delicious cocktails and eye-catching entertainment that helped AFAN raise more than $127,000.
The evening began with a VIP reception hosted by Chippendales star Jaymes Vaughan at Hard Rock Hotel's Breathe Pool Lounge. AFAN paid tribute to another prominent local AIDS nonprofit Golden Rainbow. A portion of the proceeds from the reception were donated to Golden Rainbow, and AFAN executive director Antioco Carrillo along with Golden Rainbow executive director Lea Carrasco-Zanini were all smiles as an $8,000 check was presented at the conclusion of the reception. While guests socialized, they could also overlook final preparations for the night's event at Nirvana Pool and enjoy a special lineup of entertainment. In addition, these special guests were treated to hors d'oeuvres from 35 Steaks + Martinis and a specialty AFAN-tini cocktail provided by Ketel One. Gimme Some Sugar Bakery also provided delicious desserts for the affair.
As the main event approached at 9 p.m., black and white dressed guests filled the Nirvana Pool entrance in anticipation of the night's events. Cabanas lining the pool were filled by sponsors who offered savory treats and fun products for all guests. With the avant-garde costumes and boisterous partygoers streaming into the luxurious poolside setting, it was clear the 26th edition of AFAN's Black & White Party was off to an amazing start.
The party began on a special note with AFAN board president Marek Bute honoring the 2012 "Right to Wear Red" recipients. Every other year, AFAN honors 12 HIV/AIDS advocates from the Las Vegas community who are recognized for their continued support and dedication to fighting HIV/AIDS through generous donations of their time, money, energy and services. In the sea of black and white outfits, these 12 individuals stood out with their right to wear red and received the recognition they deserved. The 2012 "Right to Wear Red" class included John Saksa with Findlay Cadillac; Dr. Dino Gonzalez with the Internal Medicine Association; Scott Washburn with Event Consultants LLC; Tom Dietz of R&R Partners; Pamela Jenkins with The Cupcakery; Fabian Mera with The Apothecary Shops; Lea Carrasco-Zanini with Golden Rainbow; Lauren Toya with Salon Dushons; Chris Saldaña with KLAS-TV 8 News Now; Herb Schultz with the U.S. Department of Health & Human Services; Kanika Toston, Cathy Roberts and Rob Saunders representing Team Walgreens; and Congresswoman Shelley Berkley, who was the inaugural People's Choice honoree.
Throughout the evening, guests cooled off with cocktails and refreshments provided by Nestle Water, Ketel One Vodka, Tequila Don Julio, Absolut Vodka, Trader Joe's, Mt. Gay Rum, Worx Energy and Vitamin Water. Bars were scattered throughout the Nirvana Pool, allowing guests to enjoy at their convenience. Seven popular Las Vegas food vendors offered delicious tastings, including savory nibbles from Mr. Lucky's, P.F. Chang's, Winder Farms, The Cupcakery, Bottles & Burgers, Maggiano's Little Italy and Outback Steakhouse. Satisfying any guest's particular craving, the cuisine and beverage booths proved to be a highlight of the evening.
Entertainment was center stage throughout the night, as well. Main event co-hosts Vaughan and Saldaña informed guests of the upcoming entertainers and kept energy levels at a fever pitch. American Idol fan favorites Ace Young and Diana DeGarmo showed their support for AFAN with a one-song performance that brought down the house. Wynn Las Vegas' Le Rêve – The Dream brought the pool to life with a synchronized swimming routine. Vegas! The Show also provided high-energy entertainment with performances from singer Reva Rice, dancer Tara Palsha and tap-dancing twins Sean and John, who supported AFAN by dazzling the crowd with their incredible abilities. Legendary entertainment duo Penn and Teller continued their ongoing support for AFAN by mingling with guests during the event. As the evening came to a close, guests were treated to a special surprise as Absinthe's Melody Sweets gave partygoers the first ever performance of a seductive new song titled "Up All Night" featuring the Dap Kings.
With the scheduled entertainment nearing an end shortly after 1 a.m., AFAN thanked the crowd one last time for their generosity and support not only that evening, but throughout the entire year.
Click on the photos below to enlarge.
Like Haute Living Las Vegas? Join our Facebook page or follow us on Twitter. Want Haute Living Las Vegas delivered to your in box once a week? Sign up for our newsletter.