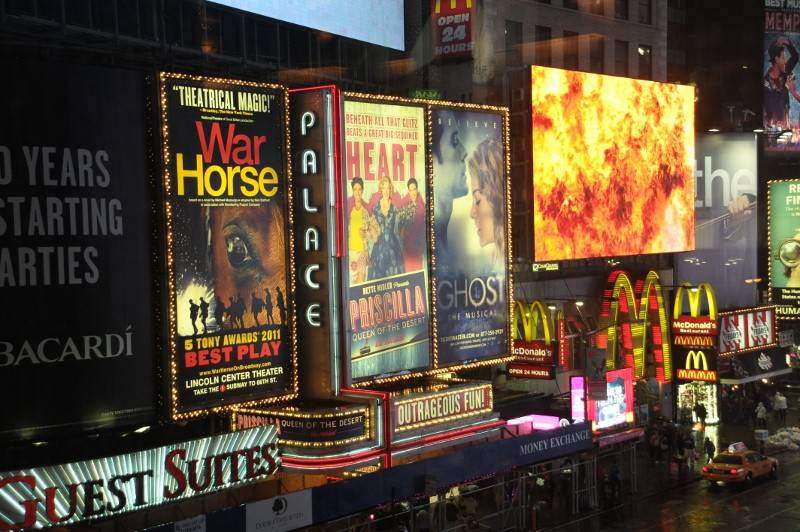 Robert Wilson Video Portraits continue to be screened nightly at 11:57pm in Times Square as part of Times Square Moment: A Digital Gallery. The video work that will appear on the Times Square digital signs — Robert Wilson Video Portraits — has toured the globe in some of the most prestigious museums, galleries and public spaces.
The video portraits include: Brad Pitt, Robert Downey Jr., Steve Buscemi, Selma Hayek, Willam Dafoe, Isabelle Hupert, among others. Celebrating the exhibit at a viewing and cocktail reception at the Hotel Renaissance were Robert Wilson supporters: Rufus Wainright, Jorn Weisbrodt, Stewart F. Lane, Bonnie Comley, Janna Bullock, Natascha Theis, Pinki Patel, Sherry Dobbin and other Wilson fans.
The New York Times described Wilson as "a towering figure in the world of experimental theater and an explorer in the uses of time and space onstage." Susan Sontag added that Wilson's career "has the signature of a major artistic creation. I can't think of any body of work as large or as influential."
While known for creating highly acclaimed theatrical pieces, Wilson's work is firmly rooted in the fine arts.
Robert Wilson Video Portraits – Times Square Moment: A Digital Gallery is presented by the Times Square Advertising Coalition (TSAC) and curated by the Times Square Arts, a public art program of the Times Square Alliance, in association with RW Work Ltd. and Dissident Industries Inc.
The Robert Wilson Video Portraits series creates HD video that blends time-based cinematography with the decisive moment of still photography. Robert Wilson Video Portraits will run through Thursday, May 31 nightly at 11:57 p.m. across 20 signs in Times Square.
For a complete list of portraits and more information see:
http://watermillcenter.org/events/robert-wilson-video-portraits
photos by Rob Rich/SocietyAllure.com © 2012
Like Haute Living New York? Join our Facebook page or follow us on Twitter @HauteLivingNY. Want Haute Living New York delivered to your inbox once a week? Sign up for our newsletter.