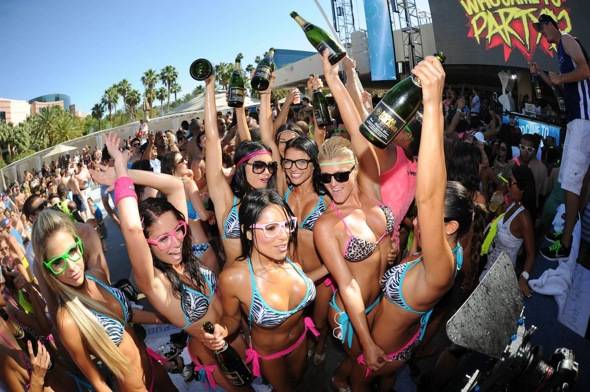 Sky Blu of LMFAO took Las Vegas by storm as he celebrated Memorial Day Weekend with his dual DJ residency "Who Came To Party!?" at Wet Republic at MGM Grand and Pure Nightclub at Caesars Palace on Sunday.
After launching his DJ residency "Who Came To Party!?" at Wet Republic last weekend, Sky Blu made his second appearance yesterday at the pool party destination and performed to a sold-out crowd. Then, last night, with the help of reigning Miss USA Alyssa Campanella and the 2012 Miss USA Contestants, the Grammy Award-nominee, singer, songwriter, producer and DJ did a repeat show and debuted "Who Came To Party!?" at Pure Nightclub.
Pulling out all the stops, Sky Blu, joined by fellow Big Bad artists Mark Rosas, girlfriend Chelsea Korka and BVillain, made a grand entrance as they were escorted through the main floor of the Vegas hot spot by a full drumline as they beat to LMFAO's "Shots" all the way to the stage. Exclusively for "Who Came To Party!?" Pure Nightclub transformed into a performance artist's haven complete with custom built stage, massive LED screen, catwalk that led directly in the middle of the crowd, confetti cannons, go-go dancers, strobe lighting and more.
Sky Blu took over the DJ booth just after midnight along with Miss USA Alyssa Campanella as the pair became center of attention and stole the show while dancing on stage. The contestants from Miss USA were to his right cheering as he shuffled down the catwalk and opened the set by performing his hit "Party Rock Anthem" a song that he created along with LMFAO member, and uncle Redfoo. Sky Blu kept guests on their feet all night long by spinning and singing his popular songs "Sorry For Party Rocking," "We Came Here To Party," "Champagne Showers" and many more. The gorgeous Miss USA contestants all joined Sky Blu on the catwalk and danced along as he performed "Sexy And I Know It." Sky Blu energized the crowd with an electrifying bash as he rocked the turntables and spun to thousands of partygoers.
The performance DJ took his residency to a new level as he incorporated dancers, instrumentalists and special guests DJs. Sky Blu was joined by The Smiley Gang, featuring fellow Big Bad artists Mark Rosas, BVillain and girlfriend Chelsea Korka. The four performance DJs and producers took turns manning the decks as they spun their pulsating tracks while the others kept the crowd dancing all night long. Sky Blu was full of energy through the entire performance as he was seen dancing, jumping around and shuffling down the catwalk to get closer to his fans.
Click on the photos below to enlarge.
Like Haute Living Las Vegas? Join our Facebook page or follow us on Twitter. Want Haute Living Las Vegas delivered to your in box once a week? Sign up for our newsletter.