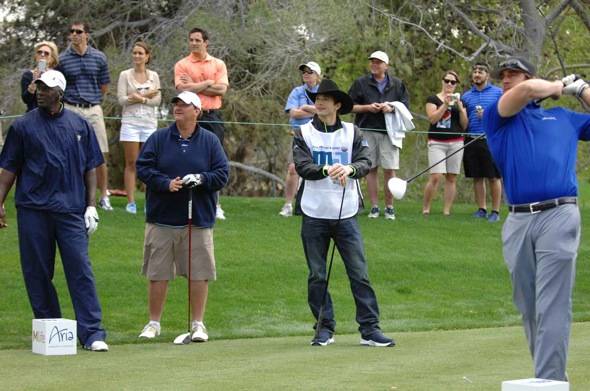 Today, actor Ashton Kutcher brought his skills to the golf course and served as Michael Jordan's caddy at Shadow Creek for the final day of the 11th annual Michael Jordan Celebrity Invitational hosted by Aria.
Sporting a cowboy hat and caddy bib emblazoned with his name, Kutcher joined Jordan for the back nine of the course, where he jumped into Jordan's custom Carolina-blue #23 golf cart, which blasted Willie Nelson's "Mama Don't Let Your Babies Grow Up to be Cowboys."
On the 11th hole, Jordan donned the hat but after taking a bad shot off the tee box said, "It's this cowboy hat I have on!" to which Kutcher quipped, "Oh yeah … you can blame it on the hat, but it had nothing to do with your slice."
Though Kutcher was clearly enjoying himself on the course, he also made sure to fulfill his caddy duties by pulling clubs, reading the greens and providing words of encouragement to Jordan. After a rogue Jordan shot, Kutcher was quick to take the blame, saying, "It was the wrong club — that was my fault!" He even got down on the ground to check the break of the greens and occasionally threw grass in the air to gauge the wind direction.
When asked about why Jordan recruited him to be his caddy, Kutcher joked, "I'm a mathematician. MJ likes to carry engineers and mathematicians around with him to read the greens and gauge the distance. Everyone else uses mechanical equipment, but I can read it pretty much by sight. Some people have perfect pitch; I have perfect eyesight." Kutcher noted that he wasn't playing in the tournament because, "I like to let the athletes do their athletic stuff and I do the math stuff." He laughed before joining Jordan again who teased, "Come on, caddy, do your job!"
Kutcher signed autographs and took photos with fans and chatted and joked with Aaron Rodgers, Brian Baumgartner and Dwight Freeney, who were part of the Jordan foursome. The duo, accompanied by a large entourage of friends, including "Grey's Anatomy" star Jesse Williams, rode together.
After they finished playing, Jordan and Kutcher headed to the 18th green to watch tournament winners Brandi Chastain and John Smoltz accept their $40,000 prize money, which will be donated to the charities of their choice. Despite not winning the tournament, Jordan and Kutcher were in good spirits, with Kutcher noting, "If you're not going to win, have fun."
Click on the photos below to enlarge.
Like Haute Living Las Vegas? Join our Facebook page or follow us on Twitter. Want Haute Living Las Vegas delivered to your in box once a week? Sign up for our newsletter.