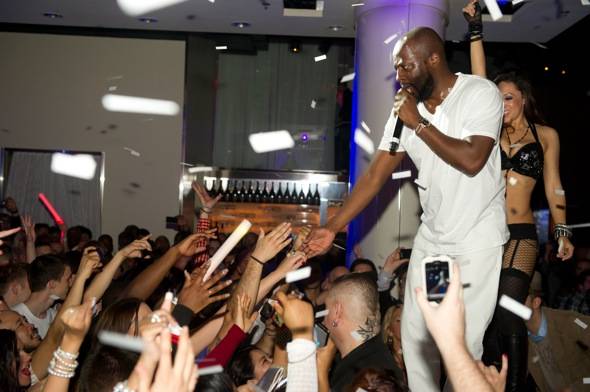 On Tuesday night, Pure Nightclub inside Caesars Palace celebrated seven years of pure success with a live performance by musician and producer Wyclef Jean. The award-winning nightclub opened its doors on Dec. 31, 2004, with an unforgettable evening hosted by Mariah Carey. That night set the standard for celebrity-filled events in Las Vegas nightlife. Since then, the mega-club has welcomed A-list celebrities and performers to enjoy a unique experience, and last night was no exception.
Arriving around midnight, the singer hit the red carpet dressed in a fashionable all white outfit, wicker fedora and baby blue loafers. While on the carpet Jean exclaimed how honored it was to be celebrating a club that has done so well in the industry. The songwriter had all eyes on him as he made his way through the legendary walkways of Pure while taking time to shake hands with admiring club-goers. Arriving at his VIP booth on the main stage, Jean immediately took his spot, and began dancing where all his fans could see.
Jean took the liberty of meeting his neighboring partygoers at the VIP booth next to him and invited their party to have a cocktail with him. The singer spent a lot of the evening with his admirers as he danced and took pictures with many from the crowd. As Jean prepared for his performance, he spent some time dancing in the DJ booth with resident DJs MIKEATTACK and Cyberkid.
Around 1 a.m., Jean took his place on top of the DJ booth with electric guitar in hand. Partiers had no idea what was in store for them as the performer took reveling club-goers on an hour-long cultural and musically historical journey. Playing his own renditions of "No Woman No Cry," "Fu-Gee- La," "Sweetest Girl," "Hips Don't Lie," "Guantanamera" and many more, he had partygoers on their feet dancing and singing along. About halfway through this mini-concert, Jean threw his fedora into the crowd and shouted, "Make some noise!" and the packed mega-club soared as confetti flew through the air. Jumping into the crowd, the star began a countdown, "Ten, nine, eight…three, two, one, happy seven year anniversary, Pure!" he shouted and the crowd went crazy!
Since its inception, Pure has welcomed celebrities such as Jennifer Lopez, Eva Longoria, Britney Spears, the Kardashians, Rihanna and more, making it the leading pioneer of Vegas nightlife.
Former NSYNC member and current Vegas host of "The Price Is Right Live!" Joey Fatone was also in attendance enjoying Jean's performance from his VIP booth.
Click on the photos below to enlarge.
Like Haute Living Las Vegas? Join our Facebook page or follow us on Twitter. Want Haute Living Las Vegas delivered to your in box once a week? Sign up for our newsletter.