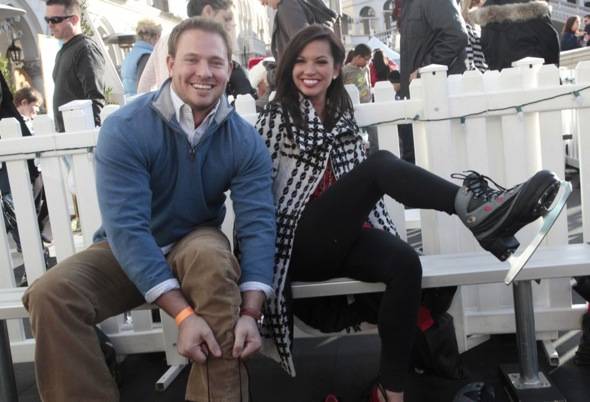 Melissa Rycroft and Tye Strickland hosted an ice skating party at the Venetian's Winter in Venice this afternoon. The two traveled from Dallas to celebrate the holiday season as well as their second wedding anniversary.

Rycroft wore a red chiffon top, Simon G earrings and David Lerner leggings paired with red high heels. Strickland joined her for photos as they stopped to meet and greet fans.
As soon as they saw the ice, it was "stilettos to skates" when Rycroft ditched her red high heels for laced-up ice skates just before joining Strickland to greet the crowd wishing everyone, "Happy holidays." The two posed for photos on the ice with fans, skated around and tested out their ice skating moves.
After plenty of spins and kisses on the ice, Rycroft and Strickland enjoyed a cup of the Winter in Venice hot chocolate from Cafe Presse as they checked out the holiday festivities. Rycroft grabbed a Santa hat and Strickland put on an elf hat as they were joined by the Winter in Venice holiday characters for some fun and festive photos. A stilt walker joked with Strickland as he stole Rycroft for a quick dance on Doge's Palace bridge. Next, they headed over to check out the 65-foot holiday tree where Rycroft told Strickland, "Hah, I'm right. There is a giant Christmas tree on the Strip."
Before heading inside, they made a quick stop to try some roasted chestnuts and cookie dough truffles from First Food and Bar. The two ended their day relaxing and enjoying a signature holiday cocktail, Gondolier Blanco, at Laguna Champagne Bar.

The couple announced that they will have their first reality television show together that will debut in April. They have already begun filming and are very excited to share the upcoming holiday season with many.
Rycroft mentioned, "Most people don't associate the holidays with Vegas and it's nice that we can start a new tradition and look forward to bringing Ava next year." Strickland added as he shared photos of his baby girl, "The holidays are about to change for us. It's just been about us but now we have a little one and get to see it through her eyes."
Click on the photos below to enlarge.
Like Haute Living Las Vegas? Join our Facebook page or follow us on Twitter. Want Haute Living Las Vegas delivered to your in box once a week? Sign up for our newsletter.